VIRTUAL EVENT: Zeena Pliska Story Towne
Event date:
Saturday, October 17, 2020 - 11:00am
Join us for a virtual story time and craft with picture book author Zeena Pliska on our YouTube channel HERE.
We will create the life cycle:
An egg -using a piece of paper towel, toilet paper, or white fabric.
Paper or pipe cleaner or clay or playdough to make Little One inside the end.
A caterpillar - using half of an egg carton.
A chryaslis - using a paper plate
Paper or clay or playdough or other small recycled materials to create the metamorphosis inside the chrysalis.
A butterfly - a paper towel or a coffee filter or a piee of fabric like nylon net.
If you would like to make a life cycle mobile, you will also need some string or thread and a hanger.
crayons or markers or sharpies or paint (tempra or watercolor) to color the caterpillar, chrysalis, and butterfly.
tape or glue to close the chrysalis and to attach the string to the pieces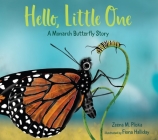 $17.99
ISBN: 9781624149313
Availability: Backordered - Usually Ships in 14-90 days
Published: Page Street Kids - May 12th, 2020
Caterpillar crawls from leaf to leaf, eating and waiting, all alone in a big, green world. Then Orange appears—Orange floats, and flits, and flies, graceful and beautiful. In this sweet, moving story of intergenerational friendship, a small caterpillar is befriended by a glorious monarch butterfly, and together they learn to see the world through each other's eyes.
---