Jan Brett Visits Collegeville This Holiday Season!
Event date:
Sunday, November 25, 2018 - 10:00am
Deadline for Web Orders: 7:30pm Saturday, November 24th. The book will be available in store as well as at the event after this deadline.
For more information regarding this event, please do one of the following: visit the store, call at 610-454-0640 or email us at customerservice@townebc.com. If you wish to obtain a ticket for this author signing, please preorder and prepay for the new book, The Snowy Nap. You can do so in one of three ways: add the book below to your cart, prepay and indicate in the order comments that you will be attending the event; stop by the store; or call us at 610-454-0640 to prepay over the phone.
This event will not be held at the Towne Book Center but at Bomberger Hall, Ursinus College, 601 E Main St, Collegeville PA
If you are attending the event, we kindly ask you to read the information below to help ensure that our event goes smoothly for everyone!
Post-Its: If you would like your book personalized to someone (Jan Brett will sign "To: Name, Jan Brett"), a staff member will provide you with a post-it and write the name on it. Please leave the post-it & the dust jacket of the book where the staff member has placed it.
Signing Line Tickets: In order to get your book signed, you have received a small pink, purple or green ticket. If you have misplaced your ticket, please ask the staff members at the entrance to Bomberger Hall for a replacement ticket (this ticket will be blue). You will be called to the signing line based on the LETTER before the number on your ticket. For example, if you have ticket S167, you will line up when the S group is called and then line up by number within the letter group. If you have a green ticket that starts with a symbol, you will line up after the letter groups. In an effort to ensure that as many families as possible are able to have a meaningful interaction with Jan, she will only sign copies of The Snowy Nap the first time that you go through the line.
Books Other Than The Snowy Nap: If you have additional books you would like signed, if time permits, Jan will sign them after she has signed all copies of The Snowy Nap. If there is not time for them to be signed, pre-signed bookplates will be available to you. You will receive the Book Plate Request Form when you arrive at Bomberger Hall. Please have it ready before you are called to join signing line.
Photography: A staff member will be on hand to take photos of all families going through the line. We will not be taking cell phones or cameras for posed, personal pictures, though you may take your own candid photos while Jan is signing. Our staff will handle all posed photos with Jan. After the event, all pictures will be available for download in a Google Drive folder available at: bit.ly/JanBrettUrsinus (case sensitive). Photos will be available by 3pm on the day of the event.
Questions/Assistance: The Towne Book Center & Ursinus College want to ensure that everyone has a positive experience. If you have any questions, please don't hesitate to ask!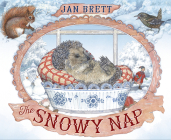 $18.99
ISBN: 9780399170737
Availability: On Our Shelves Now
Published: G.P. Putnam's Sons Books for Young Readers - October 16th, 2018
When winter comes, Hedgie tries to stay awake so he doesn't miss out on all the fun his friends are having.

---
Event address:
Bomberger Hall, Ursinus College
601 E Main Street