Better Listening: The Secret to Improving Your Professional and Personal Life (Paperback)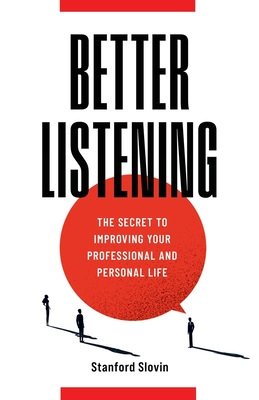 $15.99

Not In Stock - Usually Available in 1-5 Days
Description
---
Enhance and Improve Your Professional and Personal Relationships with the Power of Better Listening.
In today's fast-paced world full of distractions and a multi-tasking existence, better listening has become a rare commodity. We cut off others, eager to share our opinions, or internally craft our responses while the other person is still speaking. When we fail to hear what others say, it leads to frustration, misunderstandings, and strained relationships. Whether it's our clients, loved ones, or even passing strangers, people all want the same thing... to be heard.
With over 30 years of wealth management experience in the financial services industry, Stanford Slovin recognizes the crucial role that effective listening plays in communication. He spent a decade testing different techniques, principles, and applications of listening skills to identify the most effective ones that produce outstanding results. Better Listening is a comprehensive guide that will equip you with the tools and techniques needed to become a better communicator in both your work and personal life. Use the transformative power of active listening and its ability to foster trust by creating meaningful dialogue, enhancing empathy, and driving emotional intelligence.
If you are in sales, an advisory role, or professional services industry-or any personal or professional role where listening is essential-you'll learn how to:
Improve impactful conversations allowing for a more positive client experience.
Cultivate strong leadership skills by leveraging the power of listening in decision-making and problem solving.
Improve interpersonal relationships and resolve conflicts with the help of easy-to-use communication techniques.
Harness the transformative potential of mindfulness and open-ended questions.
Master the art of active, reflective, and total listening by letting others empty their bucket and share what they're truly feeling.
Unleash the power of better listening to make more powerful connections, strengthen the relationship with your professional clients and customers, and enhance your personal relationships. Get your copy today and unlock the secret power of Better Listening.
.