Rule-Formulation and Binding Precedent in the Madhhab-Law Tradition: Ibn Quṭlūbughā's Commentary on the Compendium of Qudūrī (Islamicate Intellectual History #2) (Hardcover)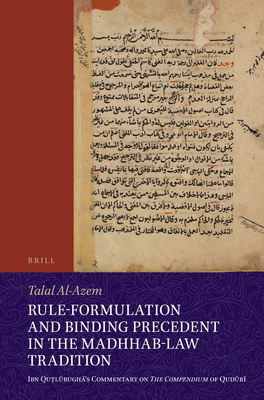 $144.00
Email or call for pricing & availability
Description
---
In Rule-Formulation and Binding Precedent in the Madhhab-Law Tradition, Talal Al-Azem argues for the existence of a madhhab-law tradition' of jurisprudence underpinning the four post-classical Sunni schools of law. This tradition celebrated polyvalence by preserving the multiplicity of conflicting opinions within each school, while simultaneously providing a process of rule formulation (tarjīḥ) by which one opinion is chosen as the binding precedent (taqlīd). The predominant forum of both activities, he shows, was the legal commentary.

Through a careful reading of Ibn Quṭlūbughā's (d. 879/1474) al-Taṣḥīḥ wa-al-tarjīḥ, Al-Azem presents a new periodisation of the Ḥanafī madhhab, analyses the theory of rule formulation, and demonstrates how this madhhab-law tradition facilitated both continuity and legal change while serving as the basis of a pluralistic Mamluk judicial system.

About the Author
---
Talal Al-Azem, DPhil (2011), University of Oxford, is the Mohammed Noah Fellow at the Oxford Centre for Islamic Studies. His research focuses on traditions of law and learning in the medieval and early modern Muslim world.