Agent Running in the Field: A Novel (Paperback)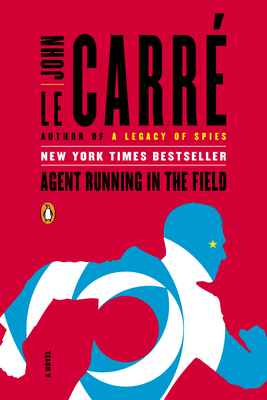 Staff Reviews
---
Part of what is so impressive about this book has got to be that John Lecare is still cranking out new books at the age of 88 and is doing it in a fascinating way. Agent Running in the field is all about the dangers of extreme nationalism, in particular with regards to Russia, Brexit and the 2016 election. I found that terribly refreshing! As someone who has no real interest in cold war spy stories reading something that felt timely was really great. In addition this is my first Le Carre book and I have got to say he is a really talented storyteller and does a great job balancing beautiful details with quick action. I would recommend this book.
— Drew
Description
---
"[Le Carré's] novels are so brilliant because they're emotionally and psychologically absolutely true, but of course they're novels." —New York Times Book Review

A thrilling tale for our times from the undisputed master of the spy genre
 
Nat, a 47 year-old veteran of Britain's Secret Intelligence Service, believes his years as an agent runner are over. He is back in London with his wife, the long-suffering Prue. But with the growing threat from Moscow Centre, the office has one more job for him. Nat is to take over The Haven, a defunct substation of London General with a rag-tag band of spies. The only bright light on the team is young Florence, who has her eye on Russia Department and a Ukrainian oligarch with a finger in the Russia pie.

Nat is not only a spy, he is a passionate badminton player. His regular Monday evening opponent is half his age: the introspective and solitary Ed. Ed hates Brexit, hates Trump and hates his job at some soulless media agency. And it is Ed, of all unlikely people, who will take Prue, Florence and Nat himself down the path of political anger that will ensnare them all. Agent Running in the Field is a chilling portrait of our time, now heartbreaking, now darkly humorous, told to us with unflagging tension by the greatest chronicler of our age.
About the Author
---
John le Carré was born in 1931. For six decades, he wrote novels that came to define our age. The son of a con man, he spent his childhood between boarding school and the London underworld. At sixteen he found refuge at the university of Bern, then later at Oxford. A spell of teaching at Eton led him to a short career in British Intelligence (MI5&6). He published his debut novel, Call for the Dead, in 1961 while still a secret servant. His third novel, The Spy Who Came in from the Cold, secured him a worldwide reputation, which was consolidated by the acclaim for his trilogy Tinker Tailor Soldier Spy, The Honourable Schoolboy, and Smiley's People. At the end of the Cold War, le Carré widened his scope to explore an international landscape including the arms trade and the War on Terror. His memoir, The Pigeon Tunnel, was published in 2016 and the last George Smiley novel, A Legacy of Spies, appeared in 2017. He died on December 12, 2020.
Praise For…
---
"Superb writing, precise portraiture, clever tricks of tradecraft—all Mr. le Carré's hallmarks are present in this swift, surprising, bittersweet story."
—The Wall Street Journal

"So topical it arrives with the beeping urgency of a news alert."
—The Washington Post

"A word about le Carré's prose: Not only does it hold the coiled energy of a much younger writer, it fits the bitter, angry narrator's voice exceptionally well."
—NPR.org

"Le Carré is one of the best novelists—of any kind—we have."
—Vanity Fair

"Le Carré remains a master at showing us what spies do, wily spiders to the unsuspecting flies they entrap."
—Booklist (starred)

"Deeply pleasurable."
—Vogue

"A tragicomic salute to both the recuperative powers of its has-been hero and the remarkable career of its nonpareil author."
—Kirkus 

"John le Carré is the great master of the spy story. . . . The constant flow of emotion lifts him not only above all modern suspense novelists, but above most novelists now practicing."
—Financial Times

"One of our great writers of moral ambiguity, a tireless explorer of that darkly contradictory no-man's land."
—Los Angeles Times

"No other writer has charted—pitilessly for politicians but thrillingly for readers—the public and secret histories of his times."
—The Guardian (UK)