Beach Read (Paperback)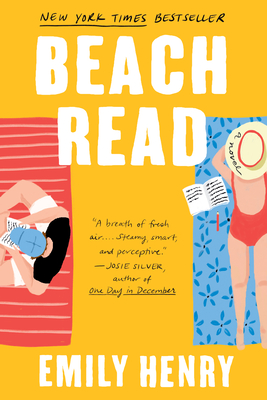 Staff Reviews
---
This book was unlike any romance I have ever read before. Henry has written in other genres before, but this is her first romance. This makes her similar to the characters she writes about in the story because they too jump out of their comfort zones to challenge themselves to write novels from genres they have never written about before. The characters were so well-written and their plots and life problems were so unique and original from other romances I have read before. My favorite thing Henry did was incorporate a cult into the novel, which was a very unexpected, but also a very enjoyable plot point. I loved this book, and hope that Henry will write more romances in the future!
— Anna
June 2020 Indie Next List
---
"What do you get when you cross a disillusioned romance author with a Hemingway wannabe? A compulsively readable book where you kind of hope for your train to be delayed so you can spend a few more minutes with January and Gus. These two, saddled with writer's block, make a pact to write the other's genre. Literary snobbery is (rightfully) called out, and the two begin to navigate a friendship outside of writing as they explore the other's process. Reader, I loved it."
— Audrey Huang, Belmont Books, Belmont, MA
Description
---
THE INSTANT NEW YORK TIMES BESTSELLER!

"Original, sparkling bright, and layered with feeling..."—Sally Thorne, author of The Hating Game

A romance writer who no longer believes in love and a literary writer stuck in a rut engage in a summer-long challenge that may just upend everything they believe about happily ever afters.

Augustus Everett is an acclaimed author of literary fiction. January Andrews writes bestselling romance. When she pens a happily ever after, he kills off his entire cast.

They're polar opposites.

In fact, the only thing they have in common is that for the next three months, they're living in neighboring beach houses, broke, and bogged down with writer's block.

Until, one hazy evening, one thing leads to another and they strike a deal designed to force them out of their creative ruts: Augustus will spend the summer writing something happy, and January will pen the next Great American Novel. She'll take him on field trips worthy of any rom-com montage, and he'll take her to interview surviving members of a backwoods death cult (obviously). Everyone will finish a book and no one will fall in love. Really.
About the Author
---
Emily Henry writes stories about love and family for both teens and adults. She studied creative writing at Hope College and the New York Center for Art & Media Studies, and now spends most of her time in Cincinnati, Ohio, and the part of Kentucky just beneath it. Find her on Instagram @EmilyHenryWrites.
Praise For…
---
"Once I started Beach Read I legit did not put it down."—Betches

One of... 

The New York Times Book Review's Summer Romance Reads
Entertainment Weekly's Hottest Summer Reads of 2020
Oprah Magazine's Best Beach Reads of Summer 2020
Betches' 20 Books to Read in 2020
SheReads' Most Anticipated Books of Summer 2020
Goodreads' Big Books of Spring
Popsugar's 25 Exciting New Books Coming Out in May
Bustle's Most Anticipated May Titles
Shondaland's Five Books to Read in May
TheSkimm's 11 Buzzy Books for Your Imaginary Beach Bag
Good Morning America's 25 Novels You'll Want to Read this Summer
The New York Post's Required Reading
Good Housekeeping's 25 Best Beach Reads
Huffington Post's Best Books to Read during Quarantine
CNN's Perfect Summer Reads
LitHub's Ultimate Summer 2020 Reading List 
BookRiot's 6 Captivating New Books

"Reader, I swooned!  Beach Read is a breath of fresh air. My heart ached for January, and Gus is to die for - a steamy, smart and perceptive romance. I was engrossed!"—Josie Silver, #1 New York Times bestselling author of One Day in December

"This is a touching and heartfelt book about love, betrayal, grief, failure, and learning how to love again. I adored going along on Gus and January's journey, and I closed this book with a satisfied sigh."—Jasmine Guillory, New York Times Bestselling Author of The Proposal

"Beach Read is original, sparkling bright, and layered with feeling. Has trying to see the world through your long time crush/rival's eyes ever been this potent and poignant? If whipcrack banter and foggy sexual tension is your catnip, you'll adore this book."—Sally Thorne, USA Today bestselling author of The Hating Game and 99 Percent Mine

"Beach Read is exactly the witty, charming, and swoony novel we always want; it also happens to be the unexpected wallop of emotional wisdom and sly social commentary we need right now. I adored it." —Julia Whelan, author of My Oxford Year
 
"Beach Read by Emily Henry has everything the title promises--a romping plot, family secrets, and the thrill of falling in love, all set on the sweeping shores of eastern Lake Michigan. I cannot wait to read what Henry writes next." —Amy E. Reichert, author The Coincidence of Coconut Cake and The Optimist's Guide to Letting Go

"Delightfully romantic and slyly poignant, Beach Read is brimming with crackling banter and engrossing prose. It has every flavor of booklover catnip: rivalry, creative struggle, family secrets, and the sweet head-over-heels tumble into love. Emily Henry's Beach Read is 2020's perfect anywhere read."—Christina Lauren, New York Times bestselling author of The Unhoneymooners

"If you liked Sally Thorne's The Hating Game and Linda Holmes's Evvie Drake Starts Over, you will definitely be into this, which feels like their spawn. (No one asked me to say this, by the way. I'm just high on that happy-sad feeling of finishing a book I enjoyed, that I wish wasn't over.) Well played."—Heather Cocks and Jessica Morgan, best-selling authors of The Royal We

"Readers are sure to fall hard for this meta, heartfelt take on the romance genre."—Publishers Weekly (starred review)

"A heartfelt look at taking second chances, in life and in love."—Kirkus Reviews

"This will still sweep readers off their feet. January's first-person narration is suitably poetic and effervescent, the small-town beach setting is charming, and the romance is achingly swoony."—Booklist

"That Henry can manage to both pack a fierce emotional wallop and spear literary posturing in one go is a testament to her immense skill."—Entertainment Weekly