Solutions and Other Problems (Hardcover)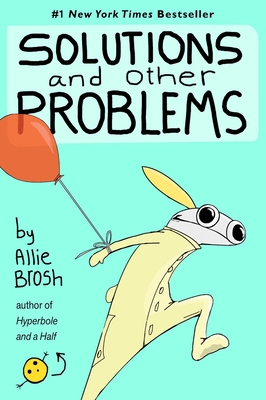 Staff Reviews
---
Brosh is back with another heartbreaking and relatable book about childhood, humorous animals, and life's absurdities. But she also covers an episode of overwhelming loss and grief that is a gut punch when it's revealed. With her signature MS Paint cartoons she takes us on an analytical journey of her frustrations and heartache, and in insightful longer pieces she delves deeper into what causes her confusion and pain and how she copes with it all.
— Jennifer
After waiting for years for Solutions and Other Problems, and wondering if Allie herself was doing okay, I couldn't believe it when it arrived at the store for me to read. Full of Allie's signature illustrations and humor, it's the book her fans have been waiting for, answering many questions about how her life has been since Hyperbole and a Half, and also full of all sorts of stories from her life as a whole, from childhood through elder-millennial-hood. I can't wait to share this book with her existing fans and new readers alike. I laughed out loud so hard I cried, and I teared up at the serious parts in the middle, the chapters where she recounts what happened when and after her sister died. Allie has delivered a book that will encourage you to cry out "me too!", particularly when it comes to all instances relating to the small children she's interacted with over the years.
— Sarah
October 2020 Indie Next List
---
"Solutions and Other Problems made me laugh out loud — like, deep belly laughter, which has been noticeably absent in my life for several months (for obvious global pandemic reasons). It also sometimes sucked the air straight out of my chest with its poignancy. And then two pages later, it had me laughing again. Brosh has a way of making the art of being human feel normal and magical and confusing and all-too-clear. I think this book might be exactly what people need right now — maybe even especially right now."
— Brittany Wallace, Trident Booksellers & Cafe, Boston, MA
Description
---
INSTANT #1 NEW YORK TIMES BESTSELLER

For the first time in seven years, Allie Brosh—beloved author and artist of the extraordinary #1 New York Times bestseller Hyperbole and a Half—returns with a new collection of comedic, autobiographical, and illustrated essays.

Solutions and Other Problems includes humorous stories from Allie Brosh's childhood; the adventures of her very bad animals; merciless dissection of her own character flaws; incisive essays on grief, loneliness, and powerlessness; as well as reflections on the absurdity of modern life.

This full-color, beautifully illustrated edition features all-new material with more than 1,600 pieces of art. Solutions and Other Problems marks the return of a beloved American humorist who has "the observational skills of a scientist, the creativity of an artist, and the wit of a comedian" (Bill Gates).

Praise for Allie Brosh's Hyperbole and a Half:
"Imagine if David Sedaris could draw….Enchanting." —People
"One of the best things I've ever read in my life." —Marc Maron
"Will make you laugh until you sob, even when Brosh describes her struggle with depression." —Entertainment Weekly
"I would gladly pay to sit in a room full of people reading this book, merely to share the laughter." —The Philadelphia Inquirer
"In a culture that encourages people to carry mental illness as a secret burden….Brosh's bracing honesty is a gift." —Chicago Tribune
About the Author
---
Allie Brosh is the author of the #1 New York Times bestsellers Solutions and Other Problems and Hyperbole and a Half, which was named the Goodreads Choice Award Winner for Best Humor Book of the Year. Brosh has also given herself many prestigious awards, including "fanciest horse drawing" and "most likely to succeed." Find out more at HyperboleandaHalf.blogspot.com.
Praise For…
---
"Brosh's storytelling is so distinctive and compelling it's like suddenly running in to a friend you feared was lost forever . . . [She] reliably channels the simplicity of a child or the innocence of an animal and tells raucous, heartbreaking stories that reflect the hidden parts of us all . . . For Brosh's millions of fans, this is well worth the wait."
—Kirkus Reviews

"Gut-busting . . . . Like a millennial James Thurber, Brosh has a knack for seeding a small, choice detail that snowballs into existential chaos . . . [Her] spidery and demented digital portraits, a visual expression of fun-house mirror anxiety, fits her material perfectly. . . This achingly accurate and consistently hilarious comic memoir finds Brosh moving forward and becoming a stronger, braver storyteller page by page."
—Publishers Weekly, Starred Review

"Through it all, [Brosh] is refreshingly vulnerable and honest. In trying to overcome her weaknesses, by spending a night alone in the woods, she reminds us that it's okay not to be okay ... Another standout from Brosh that is both heartening and heartbreaking."
—Library Journal, Starred Review

"Brosh alternates sorrow with levity—funny childhood stories, more animal tales, and general musings on life and its lack of meaning or fairness—with grace that feels true to life."
—Booklist

"The book an author produces after a wildly popular debut has all eyes on it. Fear not, Allie Brosh fans: Solutions and Other Problems is every bit as hilarious and slyly poignant as 2013's Hyperbole and a Half. Starting with the time she got stuck in a bucket at age 3, Brosh's autobiographical comics thrust her into a variety of insane and sometimes heartbreaking scenes. She battles anxiety, depression, annoying neighbors . . . and somehow, it cheers you right up."
—People

"No one sums up the hilarity, devastation and bizarreness of life quite like comic artist and blogger Allie Brosh. Her long-awaited follow-up to Hyperbole and a Half couldn't have come at a better time than this absurd and awful year. From stories about mystery poop and a dandelion-fearing child to the struggle for self-acceptance and the heartbreaking loss of her sister, it's a road trip through a brilliant and inquisitive mind, driven by colorful illustrations, sharp wit and refreshing honesty. And if you're just looking for laughs, Brosh has elevated the funny pet story to a literal art form."
—NPR

"Brosh is LOL funny…a deranged graphic storyteller without peer. Alienation is her subject. Spillage is her style…Her animal stories are superb…Brosh's stories, many drawn from her childhood, are madcap with a strong tragic undertow."
—The Wall Street Journal