The Wires of War: Technology and the Global Struggle for Power (Hardcover)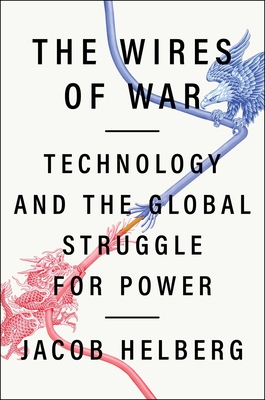 Description
---
From the former news policy lead at Google, an "informative and often harrowing wake-up call" (Publishers Weekly) that explains the high-stakes global cyberwar brewing between Western democracies and the authoritarian regimes of China and Russia that could potentially crush democracy.

From 2016 to 2020, Jacob Helberg led Google's global internal product policy efforts to combat disinformation and foreign interference. During this time, he found himself in the midst of what can only be described as a quickly escalating two-front technology cold war between democracy and autocracy.

On the front-end, we're fighting to control the software—applications, news information, social media platforms, and more—of what we see on the screens of our computers, tablets, and phones, a clash which started out primarily with Russia but now increasingly includes China and Iran. Even more ominously, we're also engaged in a hidden back-end battle—largely with China—to control the internet's hardware, which includes devices like cellular phones, satellites, fiber-optic cables, and 5G networks.

This tech-fueled war will shape the world's balance of power for the coming century as autocracies exploit 21st-century methods to redivide the world into 20th-century-style spheres of influence. Without a firm partnership with the government, Silicon Valley is unable to protect democracy from the autocrats looking to sabotage it from Beijing to Moscow and Tehran. Helberg offers "unnervingly convincing evidence that time is running out in the 'gray war' with the enemies of freedom" (Kirkus Reviews) which could affect every meaningful aspect of our lives, including our economy, our infrastructure, our national security, and ultimately, our national sovereignty.
About the Author
---
Jacob Helberg is a senior adviser at the Stanford University Center on Geopolitics and Technology and an adjunct fellow at the Center for Strategic and International Studies (CSIS). Helberg is also the cochair of the Brookings Institution China Strategy Initiative. From 2016 to 2020, Helberg led Google's internal global product policy efforts to combat disinformation and foreign interference, including policy and enforcement processes against state-backed foreign interference, misinformation, and actors undermining election integrity. Helberg studied international affairs at The George Washington University and received his master of science in cybersecurity risk and strategy from New York University.
Praise For…
---
"An analytical tour de force on the rapidly increasing challenge of techno-authoritarian nations to our national security, our economy, and our democracy. The US and its allies are taking steps to address the threat but as Helberg's analysis makes clear, we have to defend our security and values with urgency, determination, and strategic clarity for as long as it takes." —President Bill Clinton, 42nd President of the United States

"A prescient analysis of China's technological ambitions to export its political influence and erode democracy around the world. If you're interested in how technology is reshaping international politics, this book is a must read." —Ro Khanna, United States Congressman

"Important and urgent." —Cory Booker, United States Senator

"A very strong comprehensive picture of the US-China technological rivalry and a rare blend of foreign policy and technology expertise. Those passionate about the future of US security and the free world should carefully consider the author's argument." — Michael McCaul, United States Congressman

"A chilling study of how 'techno-totalitarian' regimes are seeking to control the hardware and software of the internet . . . This is an informative and often harrowing wake-up call." —Publishers Weekly

"Unnervingly convincing evidence that time is running out in the 'gray war' with the enemies of freedom." —Kirkus Reviews

"The battle for the future is being waged at the intersection of technology and geopolitics. That is where Jacob Helberg lives. He is a rare bird: a Silicon Valley veteran with a deep understanding of world politics and the struggle between the liberal democratic world and the rising forces of authoritarianism. In graceful and entertaining prose, Helberg paints a vivid and at times frightening picture, but not without hope that free societies will rise to the occasion. Those looking for a guide to the dangers and opportunities of this brave new world need look no further." —Robert Kagan, author of The Jungle Grows Back

"Wires of War is a bracing book about an urgent problem—the rise of an authoritarian techno-bloc that is trying to roll back the frontiers of digital freedom. Jacob Helberg explains the interplay of technology and geopolitics in sharp, lucid prose. This book should be required reading for anyone seeking to understand one of the defining challenges of our time." —Hal Brands, author of The Twilight Struggle: What the Cold War Can Teach Us About Great-Power Rivalry Today