Little Genius Architecture (Board book)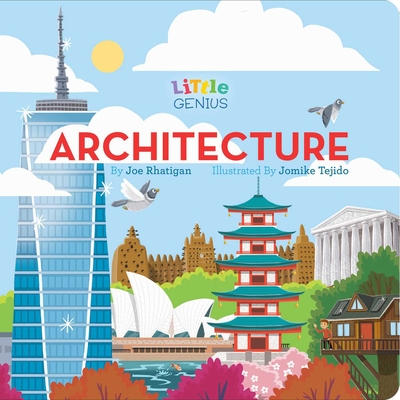 $8.99

Not In Stock - Usually Available in 1-5 Days
Description
---
Little Genius . . . where curious kids can learn and laugh while being captivated by the world around them.

A first architecture book for little geniuses!

Architects are artists
and scientists as well.
They design the spaces where we
shop, learn, visit, and dwell.

From drawing houses with crayons to building with Legos and blocks, children are born architects! And Little Genius: Architecture is a child's first look at the incredible work that architects do. Each spread features one or more amazing buildings or architectural feats, such as the Taj Mahal, the Chrysler Building, the Great Wall of China, the Parthenon, the Sydney Opera House, the Great Mosque of Djenné, and more!!! Also, a few terms such as Gothic and Art Deco are introduced without weighing down the lilting, rhyming text. With dynamic artwork by illustrator and architect Jomike Tejido, children will enjoy reading and re-reading this educational and fun book!
About the Author
---
Joe Rhatigan is an author and editor whose twenty-year book publishing career has taken him from creating and managing imprints to editing and/or writing more than 100 children's books for trade, wholesale, and educational markets. His picture books and fiction include I Love a Book (MoonDance Press, 2017), The Egg Salad Sandwich Incident (Teacher Created Materials, 2019), Everyone Toots (MoonDance Press, 2018), and Doggie Day Care (Little Hippo Books, 2020). His nonfiction includes Little Genius Solar System (Little Genius, 2021) Step into Reading: Space (Random House Books for Young Readers, 2016), 50 Wacky Inventions Throughout History (Walter Foster Jr., 2017), White House Kids (Charlesbridge, 2015), Ouch! (Charlesbridge, 2013), and Out-of-This-World Astronomy (Lark Books, 2003). He lives in the mountains of North Carolina with his family and a dog named Rooster.

JOMIKE TEJIDO has illustrated over a hundred books for children, including the Pet Charms series (Scholastic Leveled Readers) and Jumbo Stickers for Little Hands (Quarto). His most recent work was his US debut as author-illustrator, There Was An Old Woman Who Lived in a Book, (Jimmy Patterson Books /Little & Brown). When not creating picture books, Jomike paints and builds kinetic sculptures. Visit his site at www.jomiketejido.com.