I'm Not from the South, But I Got Down Here as Fast as I Could (Paperback)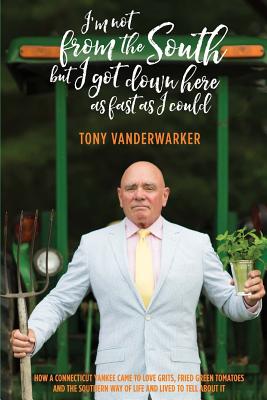 $19.95

Not In Stock - Usually Available in 1-5 Days
(This book cannot be returned.)
Description
---
I'm Not From the South, But I Got Down Here As Fast As I Could . . . How a Connecticut Yankee Learned To Love Grits and Fried Green Tomatoes And Lived To Tell About It.
Imagine being booted out of a high-flying advertising job by your partners and then moving South to try your hand at becoming a writer-and quickly discovering that your neighbor is bestselling author John Grisham. Could it possibly get any better than that? Well . . . yes and no.
In 1992, Tony Vanderwarker went through a life-changing experience that is becoming more and more common in America-forced retirement and relocation. Out of the blue his partners in the Chicago-based advertising agency he had helped create exercised the buy-out option in their partnership agreement and sent him packing. Married, with four children (two in college, two in high school), he didn't know where to turn next. He went up to the fourth floor of his residence and started writing a book, thinking that would solve all his problems.
After six months or so, when the book writing didn't pan out, he and his family relocated to Charlottesville, Virginia, where his wife, Anne, had family she could fall back on for support. Little did they know it would not only be a new venue but it would change all of them for the better. They learned to slow down and say "Y'all," survive week-long blackouts and hot weather, they gave up the Bears and Cubs and became rabid ACC football, basketball and lacrosse fans and learned to love foods they'd never even seen before. They found ourselves leaving their snotty and uppity Northern attitudes behind and gradually turning into relaxed, play-it-as-it-lays Southerners who valued watching the finches turn from brown to yellow, watching ants help peonies blossom and lightning bugs sparkle against the night sky. They reveled in the history, stories, people and beauty of the South and though they had been confirmed Northerners, they never once looked back.
Incredibly, one of his neighbors was bestselling author John Grisham. Because their children attended the same school, Grisham generously advised him on his writing, showed him how to write an outline, referred him to his literary agent, and took Vanderwarker and his family on trips in his private jet.
And the people of the South and their stories Chita who would give cans of pop to her pet bear Betsy and delight in watching her perch on her haunches and glug the soda down. Or her husband Chet who trained his parrot to say salacious things. Once an encyclopedia salesman came to the door, the parrot invited him in and then said, "Sic him" to the Doberman who chased the terrified guy off the farm.
About the Author
---
Tony Vanderwarker was raised in New England, went to Phillips Andover and Yale, served in the Peace Corps and graduated from NYU with a B.S. in Cinema. Worked in the film business in New York and made a full-length feature film. Then he went into advertising in Chicago. He cut his teeth on McDonalds (twoallbeefpattiesspecialsauce, Big Mac Attack) then moved to New York as Creative Director. When the agency merged, he moved back to Chicago and founded his own shop where he did Be Like Mike with Michael Jordan for Gatorade. He has published three books, Writing With the Master, Sleeping Dogs, and Ads For God. He has four grown children and now lives on a farm outside Charlottesville with his wife, four dogs, a horse and a Sicilian donkey named Jethro.