Frankenstein, or The Modern Prometheus (Flame Tree Collector's Editions) (Hardcover)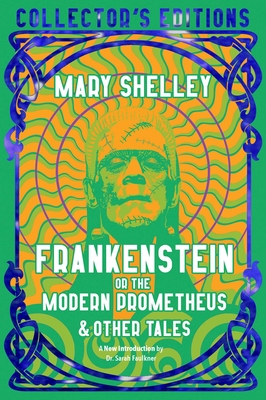 Description
---
Gorgeous Collector's Edition of the masterpiece from the gothic pen of Mary Shelley. Victor Frankenstein is a man of science obsessed with creation. However, on achieving a miracle, Frankenstein finds himself horrified by the creature of his own making.

This new version includes two companion pieces, 'Transformation', and 'The Mortal Immortal', as well as Aeschylus' original Prometheus Bound.

Flame Tree Collector's Editions present the foundations of speculative fiction, authors without whom the imaginative literature of the twentieth century would not exist, bringing the best and most influential writers into a striking and collectable library. Each book features a new introduction, a short biography and a glossary of Gothic and Victorian terms.
About the Author
---
Mary Wollstonecraft Shelley (1797–1851) was born in London, to her father the writer William Godwin and Mary Wollstonecraft. Mary's early life was unconventional and by the age of 16 she eloped with the then-married Percy Bysshe Shelley. Amongst their friends were Samuel Taylor Coleridge and Lord Byron, the latter of whom offered the challenge to Mary to write a ghost story which later became Frankenstein.

Dr Sarah Faulkner (Introduction) is a lecturer in English at the University of Washington in Seattle. She researches how nineteenth-century print culture and authorship practices shaped women's novels and public personas. She has organized multiple public humanities events celebrating Romantic women writers, including Jane Austen and Mary Shelley – in 2018 she coordinated Frankenreads at UW, an interdisciplinary event celebrating the 200th anniversary of Frankenstein.