Native American Myths & Tales: Epic Tales (Gothic Fantasy) (Hardcover)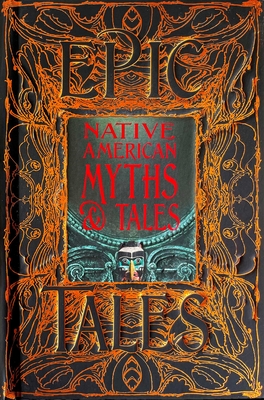 $30.00
Email or call for price.
Description
---
This new selection of myths offers a broad insight into the nature and lifestyle of the ancestral lands of the Native American tribes that once stretched from the tip of Alaska, down to the Bay of Mexico. Hundreds of languages, with traditions and folkore, grew independently across the continent, flourishing in deserts, mountains and lush valleys of a vast land. The loss of such ancient traditions is a reminder of the damage humans can wreak through ignorance, desperation and greed, as settlers from Europe swept imperiously across the newly discovered, but long-populated lands of the so-called New World.

From 'The Great Deeds of Michabo' to 'The Legend of Hiawatha', from trickster creator-deities, heroes and supernatural beings to epic voyages and an affinity with animals, there is so much to discover in this comprehensive new book. It's the latest addition to Flame Tree's Epic Tales series of deluxe anthologies and brings together a thoughtful selection of myths and tales from across the ancient plains of North America.
About the Author
---
Sam Gill, Emeritus Professor at the University of Colorado at Boulder, is the author of many books and articles, most recently The Proper Study of Religion: Building on Jonathan Z. Smith (2020). He has written many books on Native American and other Indigenous cultures including Native American Religions: An Introduction and the Dictionary of Native American Mythology. He has conducted studies in Africa, Indonesia, Latin America, Southeast Asia and Australia.