Love in a Time of War: My Years with Robert Fisk (Paperback)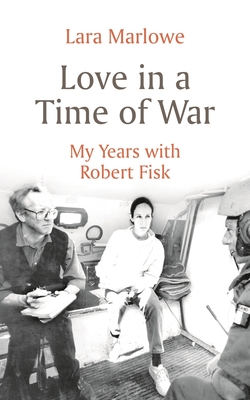 $17.95

Not In Stock - Usually Available in 1-5 Days
Description
---
A love affair against a background of war, revolution, and invasion: two passionate, committed foreign correspondents find each other as the Middle East falls apart.

When Lara Marlowe met Robert Fisk in 1983 in Damascus, he was already a famous war correspondent. She was a young American reporter who would become a renowned journalist in her own right. For the next twenty years, they were lovers, husband and wife and friends, occasionally angry and estranged from one another, but ultimately reconciled.

They learned from each other and from the people in the ruined world they reported from: Lebanon, torn apart by a vicious civil war as well as Israeli and Syrian occupations; Iran, where they were the only journalists to interview the Middle East's chief hostage-taker and dispatcher of suicide bombers; the Islamist revolt that claimed up to 200,000 lives in Algeria; the disintegration of former Yugoslavia and two US-led wars on Iraq.

This is at once a portrait of a remarkable man, the story of a Middle East broken by its own divisions and outside powers, and a moving account of a relationship in dark times.
About the Author
---
Lara Marlowe was born in California and studied French at UCLA and the Sorbonne, then International Relations at Oxford. She started her career in journalism as an associate producer with 60 Minutes, then covered the Arab world from Beirut for the Financial Times and TIME magazine. She joined the Irish Times as Paris correspondent in 1996 and returned to Paris in 2013 after serving as Washington correspondent during the first Obama administration. Marlowe was made a Chevalier de la Légion d'Honneur in 2006 for her contribution to Franco-Irish relations.
Praise For…
---
'Part biography, part autobiography, part love story and part a forceful condemnation of war, this is a fascinating and captivating book' —Irish Times
 

'A gripping tale of savagery and courage, of history in the making, intertwined with rich personal reminiscences – and through it all, a captivating portrait of the life and work of Robert Fisk, a truly great journalist' —Noam Chomsky

 

'This book is deeply honest and true, and reveals so much about Robert Fisk, his work and his engagement with the world. He and Lara Marlowe worked on the frontline of human experience, braided together by love and language and war. This is a portrait of a couple bound in a lovesong, which like all such songs confronts the vagaries of leaving, longing and loss' —Colum McCann

 

'This is a superb account of the life and work of the best reporter I have ever known. Robert Fisk was unswerving in his defence of the weak and the powerless and in exposing the crimes of governments past and present. This book shows how he did it' —Patrick Cockburn

 

'A vivid memoir of life during wartime with a journalistic legend'—Business Post