The Infinite and The Divine (Warhammer 40,000) (Paperback)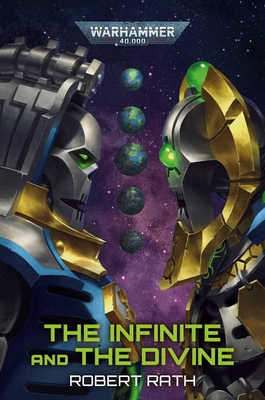 $16.00

Backordered - Usually Ships in 14-90 days
Description
---
Explore a story told across the millennia that delves deep into a pair of fascinating necron characters, their relationship and their plans for the galaxy.

Before the being called the Emperor revealed Himself, before the rise of the aeldari, before the necrontyr traded their flesh for immortal metal, the world was born in violence.Even when they inhabited bodies of flesh, Trazyn the Infinite and Orikan the Diviner were polar opposites. Trazyn, a collector of historical oddities, presides over a gallery full of the most dangerous artefacts – and people – of the galactic past. Orikan, a chronomancer without peer, draws zodiacs that predict and manipulate the future. But when an artefact emerges that may hold the key to the necrons' next evolution, these two obsessives enter a multi-millennia game of cat and mouse that ends civilisations, reshapes timelines, and changes both forever. As riddles unwind and ancient secrets are revealed, the question remains: will their feud save the necron race or destroy it?
About the Author
---
Robert Rath is a freelance writer from Honolulu who is currently based in Hong Kong. He is the author of the Warhammer 40,000 novels The Infinite and the Divine and Assassinorum: Kingmaker, and the Warhammer Crime novella Bleedout. His short stories include 'War in the Museum', 'Glory Flight', and the Assassinorum tales 'Divine Sanction', 'Live Wire' and 'Iron Sight'.