Machiavelli: From Radical to Reactionary (Renaissance Lives ) (Hardcover)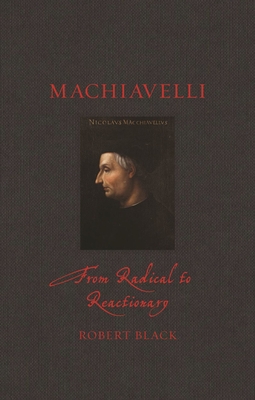 $25.00
Email or call for price.
Description
---
From a leading expert on the life and works of Niccolò Machiavelli, a superb overview of the pivotal Renaissance philosopher, writer, and historian.
 
"Machiavellian" can signify duplicity and amorality in politics, but Machiavelli himself was far more complex than this cliché. A high-ranking Florentine government official and prolific writer of hugely influential political, military, and historical works, Machiavelli was also a vernacular poet, first-rank dramatist, and religious radical, rejecting not only the contemporary Catholic Church but Christianity itself. From champion of Florentine popular republicanism to political radical to conservative, Machiavelli explores the many facets of the man described as the father of modern political philosophy and political science.
About the Author
---
Robert Black is professor emeritus of Renaissance history at the University of Leeds. His books include Machiavelli, a Times Literary Supplement "Book of the Year."
Praise For…
---
"This work by an outstanding expert on Machiavelli should help to snatch the celebrated Florentine away from political scientists. Black touches on Machiavelli's entire oeuvre, including his sparkling series of political letters and memoranda. We soon see that Machiavelli's literary legacy is a teeming store of insight that also casts light on The Prince, as well as on his reflections concerning republics. The redoubtable Florentine comes through richly in this splendid book."
— Lauro Martines, formerly University of California, Los Angeles, leading historian of Renaissance Florence

"Black's Machiavelli: From Radical to Reactionary provides an excellent and finely illustrated introduction to the author and his critical reception. Drawing on an expert knowledge of politics and humanism in Renaissance Florence, it reassesses all Machiavelli's works lucidly and incisively in the context of his career and his relationships with the Medici family. It stands out for its emphasis on Machiavelli's adaptability as a thinker and writer who at different moments was a cynical advocate of tyranny and of disregard for the common good of citizens, a champion of ancient Roman republicanism, and finally a constitutional and literary conservative who accepted compromise and conventional values."
— Brian Richardson, professor emeritus of Italian language, University of Leeds

"Black's new Machiavelli is the best short life now available in English. It is the only one fully up to date with the latest scholarship, and the only one with a detailed grasp of Machiavelli's political context in Florence. It is also the first biography to make a strong case that Machiavelli evolved into a political conservative after the publication of his Discourses and The Art of War. Indispensable!"
— James Hankins, professor of history, Harvard University

"With its numerous reproductions, including many in color, this contribution to the 'Renaissance Lives' series fully accomplishes its goal of providing an attractive and authoritative introduction to understanding Niccolò Machiavelli. . . . While intended as an introduction, Black's study succeeds in bringing into focus many of the most controversial issues surrounding Machiavelli."
— Choice