Relationship Goals: An Insider's Guide to Your Relationship with Your Money, Your Investment Advisor and Your Future (Paperback)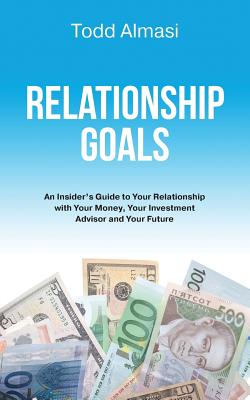 $14.99
Not In Stock - Usually Available in 1-5 Days
Description
---
Sean Gilliland, client
"My family has worked with Todd Almasi for over 20 years. As a 2nd generation client, I am enjoying an early retirement because of the important money and investing strategies I was taught by my parents and the guidance from Todd over the years. Many years ago, my parents gave me a copy of "The Wealthy Barber" to read. I see Todd Almasi's book as what you need to know after you have mastered the Wealthy Barber's strategies."
Rick Peterson, President, Peterson Capital
The increased velocity of technology changes and options make it more
difficult than ever to make smart investment choices. Yes, as an investor,
it makes sense to take more in your own hands and learn more about the world around you. But unless you devote every hour of your working day to understanding and working in capital markets, you're far better off enlisting the help of a professional.
Todd answers five questions that will help you immediately start on the path to a strong relationship with your Investment Advisor:
1. What should you realistically expect from your Investment Advisor?
2. What is your relationship with money - and how to let your Advisor understand it?
3. What is your game plan - do you have one?
4. Who should you listen to in the media?
5. How do you avoid generational erosion of family wealth?
For over 25 years Todd Almasi has been committed to a conservative, disciplined approach to investing. The foundation of Todd's clientele has been formed by building strong relationships with a high level of open communication and a personal commitment to providing the
highest level of personalized service that today's sophisticated investor expects, requires and deserves.