The Sweet Life: Italian Style Home Baking Italian Style (Paperback)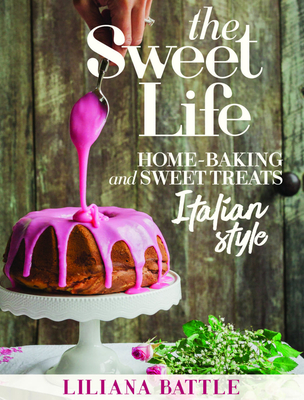 Email or call for price.
Out of Print - Please Call for Used Copy Availability
Description
---
There are fewer things more comforting than the sweet smell of a cake baking in the oven. The Sweet Life showcases the beautiful and diverse range of Italian baking and sweet treats.
From biscuits and every day cakes, to rustic tarts, decadent chocolate, cupcakes, fruity treats and amazing pastries, to incredible show stopping celebratory cakes there is a recipe here for every occasion. Some are traditional, others are modern day twists on the classics, but all are delicious and easy to make.
Making something sweet gives pleasure to others, makes fond memories and is good for your soul.
Liliana Battle grew up in a Calabrese family where the connection to food and the land shaped her passion for food. This is Liliana's third cook book, her recipes reflect her Italian heritage, and her desire to bring families back to the table. She appeared on Masterchef, writes food blog Liliana's Kitchen and runs her own successful catering business.
About the Author
---
Liliana Battle grew up in a Southern Italian family where food was generally made by hand, grown from the land, and shared with others. After appearing on MasterChef, she published her popular debut cookbook Easy Home Cooking Italian Style, celebrating recipes passed down through her family. Her recipes feature on sites such as ninemsn and LifeStyleFood, as well as her blog (www.lilianaskitchen.com).
Liliana runs a catering business "Liliana's Kitchen" and a food product range. Her passion is in teaching the art of making fresh pasta by hand. She is also ambassador for Taste of Harmony, celebrating diverse cultures through food, and is an advocate for the family table and bringing people together through home cooked meals.