Disruptive Discovery: Uncovering the Stuff That Really Matters (Paperback)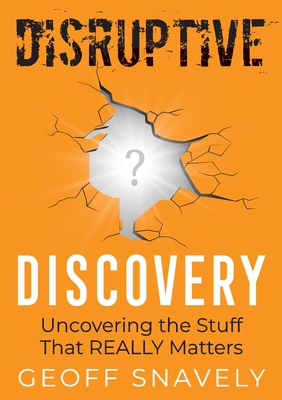 $19.99

Not In Stock - Usually Available in 1-5 Days
Description
---
Disruptive + Discovery = Game Changer
What happened in 1621 when a Pilgrim came up with the seemingly ridiculous idea that a crazy-looking, orange fruit that he (or she) found in a field would somehow make for a delicious after-dinner treat? This innovative cook hollowed it out, added milk, honey, and spices and then baked a unique concoction-unfortunately, without a crust-over hot ashes, thereby inventing one of the most heavenly creations in the history of desserts...pumpkin pie
Today, there is something deeper we need to understand. It's a question that nobody is asking during their Thanksgiving feasts, yet demands an answer:
Why did this Pilgrim cook even think of such a thing?
In his thought-provoking, revelatory work Disruptive Discovery, entrepreneur and self-indoctrinated rookie philosopher Geoff Snavely distinguishes the nice to know from the we can do something with that. He has developed a compelling model that can get people to a better place by helping them focus on what really matters.
Whether you're a business leader, sales professional, consultant, coach, or anyone who advises others about life or work, Snavely invites you to join this community of disruptors-he refers to them as Facilitators of Betterment-motivated to make a meaningful impact. By exploring his experience-based 10 Questions That Matter and other concepts, he provides you with the tools needed for digging deeper, below Surface Discovery and into the process of Disruptive Discovery. Are you ready for some disruption? If so, maybe you can invent your own version of pumpkin pie and serve it up for the world to enjoy.