Wishes and Wellingtons (Hardcover)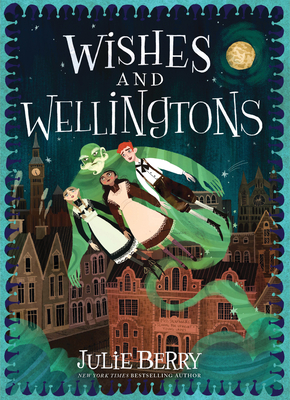 Staff Reviews
---
WISHES AND WELLINGTONS is such a delightful and charming story with sassy and smart kickass heroine that makes me laugh and cheer. The story itself is a well-told adventure full of magic, friendship, one snarky djinni, and three amazing oddballs, and really is there any better story than that? This book made me smile and feel like the odd one in instead of the odd one out. Books that make you smile are always wonderous, and this book is that amazing of a read!
— Marielle
Description
---
From New York Times bestselling and award-winning author Julie Berry comes a brand new middle-grade fantasy adventure full of friendship, magic, and mischief.
Be careful what you wish for ...
Maeve Merritt chafes at the rigid rules at her London boarding school for Upright Young Ladies. When punishment forces her to sort through the trash, she finds a sardine tin that houses a foul-tempered djinni with no intention of submitting to a schoolgirl as his master.
Soon an orphan boy from the charitable home next door, a mysterious tall man in ginger whiskers, a disgruntled school worker, and a take-no-prisoners business tycoon are in hot pursuit of Maeve and her magical discovery. It'll take all of her quick thinking and sass to set matters right. Maeve Merritt is one feisty heroine you won't soon forget.
First published as an Audible Original in 2018
The perfect book for:
Ages 8-11Young fantasy readersEmpowering young girls