The Sawbones Book: The Hilarious, Horrifying Road to Modern Medicine: | Paperback | Revised and Updated For 2020 | NY Times Best Seller | Medicine and Science | Sawbones Podcast (Paperback)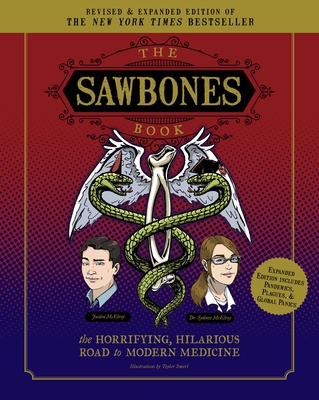 Staff Reviews
---
Sydnee and Justin McElroy host a podcast about medical history for the "modren" era, this is the book about thousands of years of medical mistakes and miracles. Learn about how they were sawing bones the old-fashioned way to understanding the deal with spontaneous human combustion! Learn how to not drill a hole in your head with this gut-busting book about the people who lived and died to bring modern medicine where it is today.
— Alex
Description
---
New for 2020! Join the 750,000 listeners of the Sawbones Podcast as Dr Sydnee McElroy and her husband Justin humorously discuss centuries of medical myths, mishaps and mayhem, including modern day medicine and pandemics.

Newly revised and updated for 2020, this new Paperback edition of the bestselling Sawbones Book gives you a fascinating, horrifying, funny and memorable tour through centuries of medical experimentation and practice (and sometimes malpractice). Learn about trepanation, the COVID-19 pandemic, Norovirus, Chickenpox, Diabetes, and more, all inspired by Sawbones 300+ podcast episodes.

Wondering whether eating powdered mummies might be just the thing to cure your ills? Tempted by those vintage ads suggesting you wear radioactive underpants for virility? Ever considered drilling a hole in your head to deal with those pesky headaches? Probably not! But for thousands of years, people have done things like this—and things that make radioactive underpants seem downright sensible! In their hit podcast, Sawbones, Sydnee and Justin McElroy breakdown the weird and wonderful way we got to modern healthcare . . . and some of the terrifying detours along the way.

Every week, Dr. Sydnee McElroy and her husband Justin amaze, amuse, and gross out (depending on the week) hundreds of thousands of avid listeners to their podcast, Sawbones. Consistently rated a top podcast on iTunes, with over 15 million total downloads, this rollicking journey through thousands of years of medical mishaps and miracles is not only hilarious but downright educational. While you may never even consider applying boiled weasel to your forehead (once the height of sophistication when it came to headache cures), you will almost certainly face some questionable medical advice in your everyday life (we're looking at you, raw water!) and be better able to figure out if this is a miracle cure (it's not) or a scam.

Table of Contents:

Part 1: The Contagious
Quarantine
The Deadly Parade
Detox
The Black Plague
Pliny the Elder
The Man Who Drank Poop
Parrot Fever

Part II: The Unnvering
The Resurrection Men
Opium
An Electrifying Experience
Weight Loss
Charcoal
Erectile Dysfunction
Spontaneous Combustion
Trepanation
The Doctor Is In

Part III: The Gross
Mummy Medicine
Mercury
The Guthole Bromance
A Piece of Your Mind
The Unkillable Phineas Gage
Phrenology
Robert Liston
Urine Luck!
Radium
Humorism
The Straight Poop
The Doctor Is In

Part IV: The Weird
The Dancing Plague
Curtis Howe Springer
Smoke 'Em if You Got 'Em
A Titanic Case of Nausea
Arsenic
Paracelsus
Honey
Self-Experimentation
Homeopathy
The Doctor Is In

Part V: The Awesome
The Poison Squad
Bloodletting
Death by Chocolate
John Harvey Kellogg
Vinegar
Polio Vaccine
The Doctor Is In
About the Author
---
Sydnee McElroy has a BS in biology (2005) and an MD (2009) from Marshall University. She currently is a practicing licensed family physician and an assistant professor of medical education with Marshall.

Teylor Smirl is a graduate of New York's School of the Visual Arts; their work has been featured in comics such as Amazing Forest as well as their own series, Flightless Birds. As Sydnee's sibling, they are part of the ever-growing McElroy (and family) podcasting empire, co-hosting Neat! The Boozecast and Still Buffering with Sydnee and their youngest sister, Rileigh.

Justin McElroy is a 15-year journalism veteran with two awards from the Ohio Associated Press for business writing. He has served as the managing editor of AOL's Joystiq and Vox Media's Polygon (of which he's also a founder).