The Grip (Marcus Stroman #1) (Hardcover)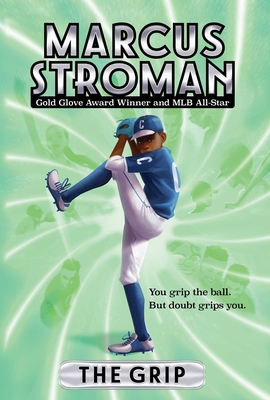 $17.99

Coming Soon - Available for Pre-Order Now
Description
---
In this first book in the semi-autobiographical middle grade series from MLB pitcher Marcus Stroman, a young baseball player learns that perfect games only come with a lot of practice—and some strikeouts.

Young Marcus Stroman is determined to make it to the highest playing level he can, despite every coach telling him he's not tall enough to become a "real" pitcher. He'll show them…with some struggling and a whole lot of learning.

It's easy to forget that for every professional sports player there was a kid just learning that sport, dealing with nerves during try-outs, dropping the ball when all their teammates are counting on them, and learning how to stay friends with someone who doesn't make the team. These hard lessons are universal whether in the majors or on a school playing field, and so are teamwork, competition, and believing in yourself.
About the Author
---
Marcus Stroman was born in New York and raised on Long Island. While he was drafted out of high school by the Washington Nationals, he chose to defer his professional career to attend Duke University. After three years at Duke, he was drafted by the Toronto Blue Jays but suffered an ACL injury. He chose to do his rehabilitation at Duke, where he was able to finish his degree. While most wrote off his career at that point, Marcus trained hard and, with his degree in hand, came back to join the Blue Jays for a spectacular run as pitcher. He was then traded to the New York Mets and is now the pitcher for the Chicago Cubs. Marcus's foundation, Height Doesn't Measure Heart, reaches out to kids in inner cities and in disadvantaged communities to instill hope that if you put your mind to it, dreams are achievable.