Goodbye, My Rose Garden Vol. 1 (Paperback)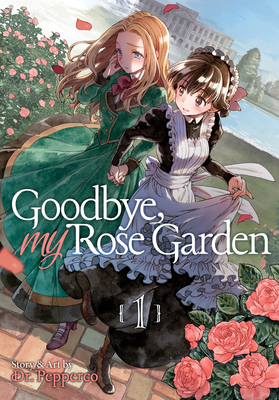 $12.99

Not In Stock - Usually Available in 1-5 Days
Other Books in Series
This is book number 1 in the Goodbye, My Rose Garden series.
Staff Reviews
---
This manga is quite the captivating slow-burn queer romance between a noblewoman with a distressing wish and her maid who is requested to fulfill it. Both characters have a way with words, as the maid is an aspiring writer and the noblewoman an expert in literature, so you will find yourself blushing, laughing, and even sulking at times, throughout the story.
— Asma
Description
---
In this beautiful new yuri manga, a young British noblewoman asks her maid to kill her...but the two fall in love instead! Early in the twentieth century, Hanako journeys to England to follow her dream of becoming a novelist. When things don't work out quite as she planned, she finds employment as a personal maid to noblewoman Alice Douglas, who makes a most unusual request: she begs Hanako to kill her! As Hanako tries to figure out why her mistress would make such a shocking plea, their relationship grows into something far deeper.
About the Author
---
Dr. Pepperco is a versatile Japanese manga artist who's worked across a number of genres, best known for Goodbye, My Rose Garden and the art of the Please Teacher!/Twins! manga spin-off Waiting in the Summer.
Praise For…
---
"... I read the first volume of Goodbye, My Rose Garden, and I remembered exactly why I love manga…" --Faye Hopper, Anime News Network

"Though Goodbye, My Rose Garden seems at first blush that it is one of those doom and gloom queer romances, there is surprising hope and levity at play. ...The artwork is richly detailed, conveying warm, cozy Englishness with great success." --Morgana Santilli, The Beat

"...I am sucker for yuri. Well, it also turns out I am a sucker for tragic love stories, the Victorian era, and books, especially literary classics. When all of these things are bundled together in a well-written package, I can't help but fall in love. In other words, I immensely enjoyed Goodbye, My Rose Garden because it consisted of all of these things and more." --The OASG

"I applaud it for the strong presentation, its sincere and moving narrative, and the inclusion of historic LGBTQ struggles. I cannot wait to read more about Hanako and Alice's journey in the next volume and wholeheartedly recommend the series." --The Holy Mother of Yuri

"So not only do we have maids' outfits lovingly detailed and teacups and corsets and stately home libraries and other Victoriana miscellany, but we enjoy pretense to upperclassishness in scene and language." --Erica Friedman, Okazu