The Critical Qur'an: Explained from Key Islamic Commentaries and Contemporary Historical Research (Hardcover)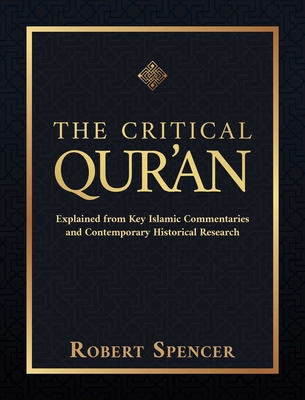 $45.00

Not In Stock - Usually Available in 1-5 Days
Description
---
A unique resource for understanding the Islamic Holy Book.

As Islamic terrorism becomes a distressingly common feature of life in North America and Europe, it has become increasingly important for non-Muslims to be aware of the ideology that animates and motivates jihad violence and Sharia oppression of women and others—an ideology that's rooted in Islam's holy book, the Qur'an.

English-speaking people, however, have found attempts to understand the Qur'an and Islam impeded by unclear, densely worded translations and explanatory notes written by Islamic apologists attempting to conceal, rather than reveal, how Islamic jihadis use the texts and teachings of the Qur'an to justify violence and supremacism, and to make recruits of peaceful Muslims.

The Critical Qur'an, in contrast, makes clear the passages that are used to incite violence. Historian and Islamic scholar Robert Spencer elucidates the Qur'anic text with extensive references to the principal tafsir, or commentaries, that mainstream Muslims use today to understand the Qur'an, showing how interpretations that sanction violence are unfortunately not outliers, but central in Islamic theology.

The Critical Qur'an is the Islamic counterpart to numerous critical and skeptical editions of the Bible that have appeared over the last century and more. It is the one edition of Islam's book that doesn't shy away from elucidating why the holy book of Islam is so frequently quoted and referred to with reverence by people who commit and/or justify acts of violence. It is a basic resource for everyone who wishes to understand the persistent phenomenon of Islamic terrorism, and the peculiar provenance of this most provocative book.
About the Author
---
Robert Spencer is the director of Jihad Watch and a Shillman Fellow at the David Horowitz Freedom Center. He is the author of twenty-seven books, including the New York Times bestsellers The Politically Incorrect Guide to Islam (and the Crusades) and The Truth About Muhammad: Founder of the World's Most Intolerant Religion, as well as the bestselling The History of Jihad: From Muhammad to ISIS and The Critical Qur'an: Explained from Key Islamic Commentaries and Contemporary Historical Research. His most recent book is The Sumter Gambit: How the Left Is Trying to Foment a Civil War. Spencer has led seminars on Islam and jihad for the FBI, the United States Central Command, the U.S. Army Command and General Staff College, the U.S. Army's Asymmetric Warfare Group, the Joint Terrorism Task Force (JTTF), the Justice Department's Anti-Terrorism Advisory Council, and the U.S. intelligence community.