This is Why We Pray: Islamic Book for Kids: A Story About Islam, Salah, and Dua (Hardcover)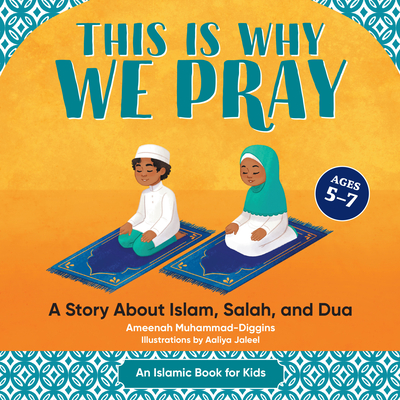 $16.99

Backordered - Usually Ships in 14-90 days
Description
---
Build a bond with Allah through this top choice in Islamic books for kids ages 5 to 7
Join Aliya and Amar as their Mama and Papa tell them all about the Five Pillars—especially salah. One of the most engaging Islamic books for kids, this book helps you learn what it means to pray, discover how it helps you grow closer to Allah, and hear awesome stories from the Quran that teach even more about the importance of salah.
This standout among Islamic books for kids features:
Salah and dua explained—Find out what salah and dua are, why they matter so much, and how talking to Allah can help you.
Playful learning—Grab your family and keep the learning going with fun activities you can do together.
Engaging pictures—Follow along with colorful illustrations that take you through the story and teach you how to perform wudu and salah.
Go beyond other Islamic books for kids with this fun and educational exploration of salah and more.
About the Author
---
Ameenah Muhmmad-Diggins is an American Muslim author and speaker. Her work is inspired by her love of community and her experiences as an African American Muslim growing up in Philadelphia. Ameenah's book, Bashirah and the Amazing Bean Pie, made history in 2019 by becoming the first Muslim children's book to be adapted and produced into a stage play by a top-10 US children's museum.
Praise For…
---
"Masha'Allah! This beautifully illustrated storybook can be used to help spark genuine love and appreciation for the Islamic faith. Ameenah Muhammad-Diggins's informative, yet, accessible text presents an introductory understanding of basic principles that young readers will relate to and provides a foundation from which parents can build meaningful conversations." —Ashley Franklin, author of Not Quite Snow White

"Through short stories that follow the Abdur Rahman family, This is Why We Pray teaches Muslim kids the fundamentals of their faith in an informative yet engaging way. Children will love Aliya Jaleel's vibrant illustrations and Muhammad-Diggins' fun tips, discussion questions, encouraging pep-talk-style letters, and anecdotes from the Quran and hadith. Parents and Islamic school teachers will appreciate the simple but meaningful way it introduces young Muslims to the five pillars of Islam, parts of prayer, and beginning duas." —Jamilah Thompkins-Bigelow, award-winning children's book author

"What a beautiful introduction to salat for Muslim children! The 'why' we pray is explained in a simple, yet profound, way within the context of the characters' lives. Young readers will understand the importance of keeping a connection to Allah through the focus on the spirituality inherent in familiar, everyday life. I loved it and look forward to gifting it to the young children in my life." —S. K. Ali, New York Times bestselling and award-winning author