House of Earth and Blood (Crescent City) (Hardcover)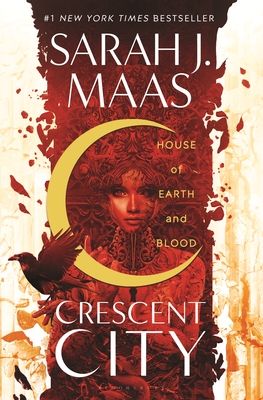 Staff Reviews
---
House of Earth and Blood is a departure from Sarah Maas' previous books, not just in that it's her first adult fantasy, but in that it is more of an urban fantasy and, delightfully, references Norse mythology! I've enjoyed each of her books thus far and am so excited to share her new series with customers at the store, as well as delight in reading it myself!
— Sarah
As a new Maas fan and having just finished another series of hers, I needed to pick this up immediately. This book has a creative world where all mythical creatures live together in semi-harmony. This is an urban fantasy, and definitely a departure from her previous works, but still has the tropes that Maas is the best at doing. There is a swoony love interest, and a strong female lead. I am devouring this book given its massive size.
— Anna
Description
---
A #1 New York Times bestseller!

Sarah J. Maas's brand-new CRESCENT CITY series begins with House of Earth and Blood: the story of half-Fae and half-human Bryce Quinlan as she seeks revenge in a contemporary fantasy world of magic, danger, and searing romance.

Bryce Quinlan had the perfect life—working hard all day and partying all night—until a demon murdered her closest friends, leaving her bereft, wounded, and alone. When the accused is behind bars but the crimes start up again, Bryce finds herself at the heart of the investigation. She'll do whatever it takes to avenge their deaths.

Hunt Athalar is a notorious Fallen angel, now enslaved to the Archangels he once attempted to overthrow. His brutal skills and incredible strength have been set to one purpose—to assassinate his boss's enemies, no questions asked. But with a demon wreaking havoc in the city, he's offered an irresistible deal: help Bryce find the murderer, and his freedom will be within reach.

As Bryce and Hunt dig deep into Crescent City's underbelly, they discover a dark power that threatens everything and everyone they hold dear, and they find, in each other, a blazing passion—one that could set them both free, if they'd only let it.

With unforgettable characters, sizzling romance, and page-turning suspense, this richly inventive new fantasy series by #1 New York Times bestselling author Sarah J. Maas delves into the heartache of loss, the price of freedom—and the power of love.
About the Author
---
Sarah J. Maas is the #1 New York Times and internationally bestselling author of the Throne of Glass, Court of Thorns and Roses, and Crescent City series. Her books have sold more than nine million copies and are published in thirty-seven languages. A New York native, Sarah lives in Pennsylvania with her husband, son, and dog.

sarahjmaas.com
facebook.com/theworldofsarahjmaas
instagram.com/therealsjmaas
Praise For…
---
"The mystery element presents a stunning twist, and the emotional depth of Bryce's relationships with both Hunt and Danika is incredibly moving. Fans will eagerly await the next installment." —Booklist, starred review

"A dizzying, suspenseful whirl that surprises at every turn." —Entertainment Weekly

"A master class in world-building adventure. Don't miss it." —#1 New York Times bestselling author Charlaine Harris

"A richly imagined tale spiced with snarky humor and smoldering romance." —Publishers Weekly

"House of Earth and Blood is a gamechanger! A must read. Sarah J. Maas has set the new standard with this book." —#1 NYT bestselling author J. R. Ward

"Tender, funny, frustrating, hot, and satisfying… Modern day paranormal mixed with good old-fashioned fantasy…of truly epic proportions." —#1 NYT bestselling author Laurell K. Hamilton