The Skeletons Strike Back: An Unofficial Gamer's Adventure, Book Five (Paperback)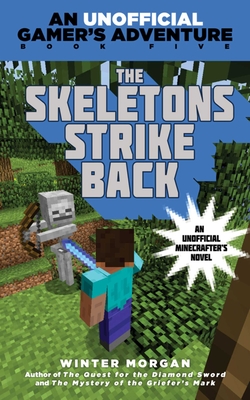 Description
---
What is more fun than boys and girls than playing Minecraft? Going on an amazing adventure into the game itself with bestselling author Winter Morgan!

Steve and his friends are back at the wheat farm trying to find a way to secure their crops from hostile mobs when their old friend Georgia comes to them for help. Georgia's village is in the middle of a serious skeleton attack. The skeletons appear at dawn, and nobody can go to bed without risking death. Steve and the gang agree to help, but the journey to Georgia's village isn't easy, especially with a new batch of rainbow griefers on their trail.

After Steve and the gang get to the village and fight the skeletons, they think the battle is over. They are surprised to find out that it has just begun! Rumors circulate through Georgia's village about a skeleton farm nearby in the dungeon of an old castle. The griefer running the farm spawns skeletons and destroys them for the bones the skeletons drop when destroyed. Is the skeleton invasion a part of the griefer's larger plan? Or are the skeletons escaping in order to save themselves?

The gang has to figure out who their real enemy is before they can win this battle. Should they side with the skeletons? Or stop the griefer? Find out in this thrilling fifth installment of the Unofficial Gamer's Adventure series!
About the Author
---
Winter Morgan is the author of numerous children's books including national bestseller The Quest for the Diamond Sword, the bestselling unofficial novel for Minecrafters published by Sky Pony Press. She is the author of five other series for Minecraft fans: an Unofficial Gamer's Adventure, the Unofficial League of Griefers Adventure, the Lost Minecraft Journals, the Unofficial Minecrafters Academy Series, and the Unofficial Minetrapped Adventure. Morgan has a video game-addicted son, who inspires her. She lives in Brooklyn, New York.