Three Laws Lethal (Paperback)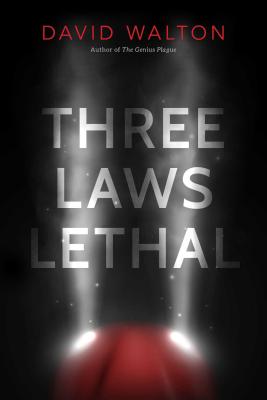 Staff Reviews
---
PK's Pick
Dave Walton's Three Laws Lethal deals with the ethical dilemma software engineers will face in the near future when it comes to self-driving cars. Based in New York City, this fictional study in ethics deals with the challenges two graduate students, and friends, face in dealing with communication between these autonomous automobiles.
One tragic car accident leads to the formation of two separate companies and as their moral compasses point in widely different directions, they frequently find themselves in competition and conflict. It is the perfect book for both science fiction and thriller fans.
— From
Summer Staff Picks
Description
---
Featured on Wall Street Journal's list of the Best Science Fiction of 2019

The place, New York City; the time, the very near future. The streets of Gotham are swarming with self-driving cars, which are now a reality, and the competition between two entrepreneurs for this cutthroat futuristic business grows increasingly fierce. But when the escalating technological warfare produces superintelligent AI computers that use data to decide who should live and die, the results are explosive . . . and deadly.

It is left to young Naomi Sumner, inventor of the virtual world in which the AIs train, to recognize that the supercomputers are developing goals of their own—goals for which they are willing to kill. But can she stop these inhuman machines before it is too late? More importantly, will she stop them?

Three Laws Lethal takes the reader on a wild ride in a world that is still imaginary . . . for now . . .
About the Author
---
David Walton is the author of seven novels and is the recipient of the Philip K. Dick Award for his first novel, Terminal Mind. He is also the author of The Genius Plague, Superposition, Supersymmetry, Quintessence, and Quintessence Sky. David lives a double life as a top secret engineer working with the US intelligence community by day, and the mild-mannered father of seven children at night.
Praise For…
---
Recommended for those who like character-driven science fiction, hard science fiction, fans of Asimov's Robot series, and anyone who has ever used a car sharing app.
— Future Science Fiction Digest

A sci-fi techno-thriller I'd recommend to readers who don't think they like science fiction, especially if they're interested in technology or futurism. It's highly accessible but also smart and thoughtful. 'Three Laws Lethal' is one of my favorite reads this year and will be on my Best of 2019 List!
— Fantasy Literature

...an energetic, non-stop thrill ride from start to finish.
— The Bibliosanctum

This is David Walton's best book yet. If you are curious about AIs and other futuristic technology like self-driving cars—which honestly isn't that futuristic at all—you won't want to miss this book.
— Books, Bones & Buffy

Mr. Walton keeps the provocations coming, along with courtroom drama, human jealousy and a murder mystery. Three Laws Lethal shows sci-fi evolving, just as dramatically as the A.I.-driven Mikes.
— Wall Street Journal

With Three Laws Lethal, [WaIton] knows how to build a world where all of his ideas can live.
— Locus Magazine

Suppose autonomous vehicles are popular. Then what comes next? And what after that? David Walton's Three Laws Lethal gives the reader exciting insights into the threats and the promises that are coming our way.
— Vernor Vinge, multiple Hugo award-winning author of 'A Deepness in the Sky'

Three Laws Lethal jumps off Asimov, Heinlein, and the best of Robert J. Sawyer, in a brilliant, breathtaking novel we the Uber generation have been awaiting. Flat-out superb.
— Paul Levinson, author of 'The Plot to Save Socrates'