Ignorance: Everything You Need to Know about Not Knowing (Paperback)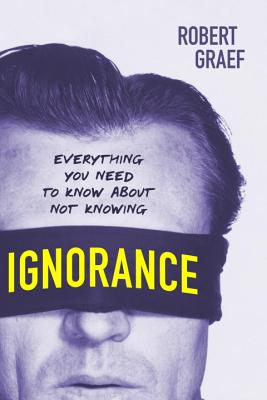 $18.00
Special Order - Please Call for Availability
Description
---
Sums up the many fields of study where ignorance can undermine our understanding, while showing how an awareness of ignorance can lead to exploration and the discovery of new knowledge.

The flip side of knowledge is ignorance. This book explores the vast scope of ignorance, even in an age when we think we know more than ever before. By marking off this ocean of ignorance into manageable categories, the author provides a kind of navigational chart to the unknown, and a series of red flags to all those who claim certitude.

The book first lays out the many branches of ignorance--in education, the media, politics, religion, science, and other major institutions. It then assesses the costs and consequences of that ignorance. World conflicts, endemic poverty, environmental damage, waste, racism, and the manipulative forces of industry and politics that use propaganda to manipulate the public may all be seen as rooted in ignorance.

But there are positive aspects of ignorance as well. Scientists and artists, by recognizing what they don't know, are spurred on to new creative approaches and discoveries, which would never be found by those too comfortable with the tried and true.

The author cites Socrates, whom the Delphic Oracle declared to be the wisest of all people simply because he realized how much he didn't know. This book gives you ways to follow in the path that Socrates forged, to counter the closed minds whose false sense of certainty cannot help but distort reality, and to be better prepared to take on even the most serious challenges of today.
About the Author
---
Robert Graef is a retired journalist, school teacher, and businessman, who continues to be active in civic projects in Washington State. He is the author of four previous books and more than six hundred articles published in newspapers and periodicals.
Praise For…
---
"Robert Graef has given us an essential lexicon and field guide of ignorance, a most slippery and multidimensional concept. Rich in history and philosophical analysis, this work should be required reading in the classroom and the boardroom, in book clubs and around the dinner table. A national conversation about what we do and do not know, should and should not know, and can and cannot know, and the dangers and pitfalls of not knowing the differences."
 
—Bill Vitek, coeditor of The Virtues of Ignorance: Complexity, Sustainability, and the Limits of Knowledge

"Boldly but humanely, Robert Graef explores how ignorance is a comprehensive force and an existential danger. Wide-ranging, conscientious, and compellingly well researched, filled with apt examples and vivid metaphors, Ignorance is the most thoughtful book of its kind that I've ever read. In confronting ignorance, Graef has struck a social and historical mother lode, a topic that is at once profound and amusing, specific and inexhaustible. He has set forth on a philosophical marathon and arrived at the finish line without losing his breath. This is a book to cherish. It should be on the bookshelves of anyone who aspires to social consciousness."
 
—Robert Grudin, author of American Vulgar

"This is an entertaining map of human ignorance and the threats it poses. It's witty and chock-full of pithy examples. Given the rising tide of BS and ignorance, it couldn't be timelier. Highly recommended."

—Stephen Law, lecturer in philosophy, Heythrop College, University of London, and author of Believing Bullshit

"A creative, insight-packed ramble through the vast world of what we don't know."
 
—Robert N. Proctor, author of Agnotology: The Making and Unmaking of Ignorance