Land of the Lustrous 1 (Paperback)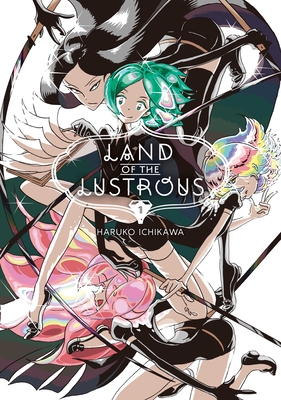 Staff Reviews
---
Land of the Lustrous is what I'd call the Steven Universe of manga. Focusing around a race of race of humanoid gemstones fighting to survive in a post-apocalyptic world, Land of the Lustrous stands out to me among other Manga I have read for its breathtaking visuals (look inside). The series mainly focuses around the motif of maturity and greatly rewards reading that continue reading the later volumes. While the plot is slow in this first volume, I would recommend this book for the art alone.
— Christopher
Description
---
The elegant, enthralling action manga that became the hit anime! Find out why readers have flocked to this "gorgeous, absorbing, surprisingly emotionally resonant" masterpiece!
SEARCHING FOR PURPOSE  
In a world inhabited by crystalline lifeforms called The Lustrous, every unique gem must fight for their way of life against the threat of lunarians who would turn them into decorations. Phosphophyllite, the most fragile and brittle of gems, longs to join the battle. When Phos is instead assigned to complete a natural history of their world, it sounds like a dull and pointless task. But this new job brings Phos into contact with Cinnabar, a gem forced to live in isolation. Can Phos's seemingly mundane assignment lead both Phos and Cinnabar to the fulfillment they desire?
Praise For…
---
"Incredible composition… Striking manga art… Gorgeous, absorbing, surprisingly emotionally resonant." -Tor.com
"Beautiful... Ichikawa captures a kinetic energy that flows almost like water. Visually stunning and the most thought provoking work in the visual medium of 2017 so far." -Adventures in Poor Taste
"Ravishes you with artwork so beautiful and strange it's hard to look away." -The Manga Critic