The Wicked + the Divine Volume 1: The Faust Act (Wicked & the Divine Tp #1) (Paperback)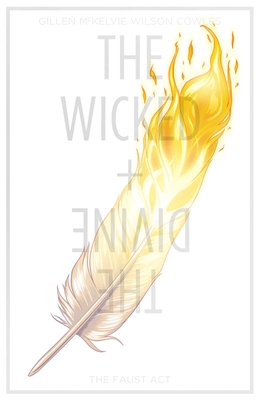 Staff Reviews
---
"Every ninety years 12 gods return as youn people. They are loved. They are hated. In two years, they are dead." This quote opens what is probably one of my favorite comic series to come out in a long time. Twelve different gods from all across the pantheons come back to earth every 90 years and this time around they are musicians. Playing underground shows that are better than any drug it's a total party, but when bodies start dropping questions have to be asked. Questions like what are the gods, and what is killing them?
— Drew
Description
---
"solid storytelling and clean, gorgeous artwork will keep readers engrossed and eager for more." - Publishers Weekly (Starred) "Gillen's penchant for fast, sharp dialogue and McKelvie and Wilson's razor-lined, intensely colored visuals keep things popping up to the cliffhanger ending." - Booklist "the story is beautifully drawn and populated with characters of color, diverse gender, and sexual identities, and you have my full undivided attention." -- Kirkus Every ninety years, twelve gods incarnate as humans. They are loved. They are hated. In two years, they are dead. The team behind critically thermonuclear floor-fillers Young Avengers and Phonogram reunite to start a new, ongoing, superhero fantasy with a beautiful, oversized issue. Welcome to The Wicked + The Divine, where gods are the ultimate pop stars and pop stars are the ultimate gods. But remember: just because you're immortal, doesn't mean you're going to live forever.
Collects The Wicked + The Divine #1-5.