Listening for America: Inside the Great American Songbook from Gershwin to Sondheim (Hardcover)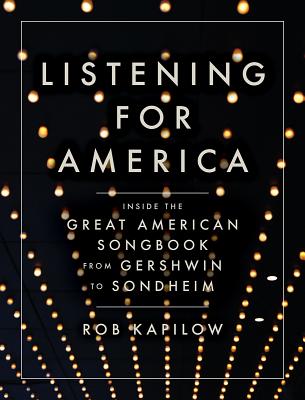 $39.95

Not In Stock - Usually Available in 1-5 Days
Description
---
Finalist • The Marfield Prize [National Award for Arts Writing]
"Not since the late Leonard Bernstein has classical music had a combination salesman-teacher as irresistible as Kapilow." —Kansas City Star
Few people in recent memory have dedicated themselves as devotedly to the story of twentieth- century American music as Rob Kapilow, the composer, conductor, and host of the hit NPR music radio program, What Makes It Great? Now, in Listening for America, he turns his keen ear to the Great American Songbook, bringing many of our favorite classics to life through the songs and stories of eight of the twentieth century's most treasured American composers—Kern, Porter, Gershwin, Arlen, Berlin, Rodgers, Bernstein, and Sondheim. Hardly confi ning himself to celebrating what makes these catchy melodies so unforgettable, Kapilow delves deeply into how issues of race, immigration, sexuality, and appropriation intertwine in masterpieces like Show Boat and West Side Story. A book not just about musical theater but about America itself, Listening for America is equally for the devotee, the singer, the music student, or for anyone intrigued by how popular music has shaped the larger culture, and promises to be the ideal gift book for years to come.
About the Author
---
Rob Kapilow is a composer, conductor, and music commentator who has traveled the world as a guest speaker and host of What Makes It Great? Currently working on a book about the music of the Woodstock generation, he lives in New Jersey.
Praise For…
---
[An] enlightening study.... Rob Kapilow may be contemporary America's most passionate evangelist for the quaint discipline known as 'music appreciation'... a winning combination of Leonard Bernstein and Bill Nye the Science Guy, an infectiously enthusiastic explainer of the inner mechanical workings of music.... A nifty companion website for the book includes helpful, easy-to-grasp audible demonstrations and vocals, as does the e-book version. For me at least, this digital crib-sheet was a vital tool for appreciating Kapilow's arguments.... It is a testament to the depth and catholicity of Kapilow's knowledge that he can effortlessly compare the sweet-sour takes on love in Rodgers and Hart's "I Wish I Were in Love Again" with Stephen Sondheim's "Being Alive." He writes engagingly of Irving Berlin's astonishing journey from a Russian village and Manhattan's Lower East Side to the heights of fame, [and] astutely surveys the radical changes in popular taste in the 1960s and '70s that dislodged the Broadway musical.... But it is the analysis of the songs that is the meat of the book — and something like its soul as well.... [Kapilow] rewards those patient enough to hold his hand as he walks them through just what makes these songs great.
— Todd S. Purdum, New York Times Book Review
Infectiously readable.... A carefully thought-out act of selection that gives you a starting point for your journey through the Great American Songbook. Who could ask for anything more?
— Terry Teachout, Wall Street Journal
[Kapilow] recounts the 20th-century history of American popular music in lyrical prose.... [his] melodious writing hums with the vibrant music of American history and American popular culture.
— Publishers Weekly [starred review]
[A] lively and highly informative look at what makes musical show tunes great.... A seamless blend of music, history, and biography.
— Kirkus Reviews
The Great American songbook is a national treasure, and in this engaging and instructive guide, composer, conductor, and music commentator Kapilow unlocks its riches. Sixteen gems by eight American masters of song.... are analyzed and set into historical and cultural context, resulting in a greater appreciation of these American musical masterpieces.... The songs selected for examination make for a musical theater fan's ultimate playlist.... A treat for music fans and a great addition to any performing arts or popular culture collection.
— Carolyn Mulac, Booklist
Kapilow doesn't just explore what makes these songs catchy and unforgettable—the author dives into how societal issues like race, immigration, sexuality, and cultural appropriation can intertwine themselves into the greatest theatrical masterpieces.
— Dan Meyer, Playbill.com
Impossible to resist.... [Kapilow's] insight combined with the ability to share it easily will deepen your knowledge of the best that Broadway has to offer.
— Michael Giltz, broadwaydirect.com
Through the lens of musical theater, Rob Kapilow allows us to experience the unique sound and spirit of a changing America. I came away inspired and ready to write.
— Lynn Ahrens, Tony Award–winning lyricist of Ragtime
Listening for America
is an impressive achievement and one of the finest contributions to the annals of musical theater.
— Robert Kimball, editor of The Complete Lyrics of Cole Porter
Praise for Rob Kapilow:
Rob Kapilow leaps into the void dividing music analysis from appreciation and fills it with exhilarating details and sensations.
— New York Times
A wonderful guy who brings music alive!
— Katie Couric
It's a cheering thought that this kind of missionary enterprise did not pass from this earth with Leonard Bernstein. Robert Kapilow is awfully good at what he does. We need him.
— Boston Globe