This Old Band (Hardcover)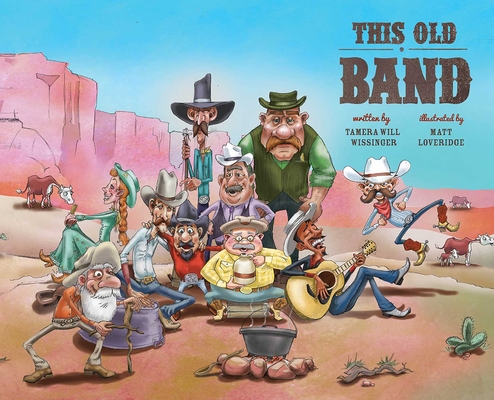 $16.95
Email or call for pricing & availability
Description
---
What kinds of instruments would you imagine a band of cowboys playing? Surely nothing fancy, but they can still make do with what they have, like jugs, combs, boots, and whatever else they can find. Out on the open range, with no one to tell them to quit their hollerin', a cowboy band counts from ten to one in a tune children are familiar with. Silly phrases, toe-tapping rhythms, and the occasional twist make these cowpokes a great addition to any story-time or bedtime lineup.

Featuring a ragtag group of cowboys from author Tamera Will Wissinger, and colorful, offbeat illustrations by Matt Loveridge, This Old Band is sure to delight children and adults alike (and teach kids a few things about counting and noises) with a fun take on a popular nursery rhyme.

Sky Pony Press, with our Good Books, Racehorse and Arcade imprints, is proud to publish a broad range of books for young readers—picture books for small children, chapter books, books for middle grade readers, and novels for young adults. Our list includes bestsellers for children who love to play Minecraft; stories told with LEGO bricks; books that teach lessons about tolerance, patience, and the environment, and much more. While not every title we publish becomes a New York Times bestseller or a national bestseller, we are committed to books on subjects that are sometimes overlooked and to authors whose work might not otherwise find a home.
About the Author
---
Tamera Will Wissinger is an up-and-coming poet and children's author. Wissinger has a master's degree in writing, and her book Gone Fishing was released by Houghton Mifflin Books for Children in March 2013. Wissinger lives with her husband in Vero Beach, Florida.

Matt Loveridge is an illustrator and writer with a refreshingly light style. Loveridge illustrated the new Looniverse series of early chapter books from Scholastic, as well as other children's books. Loveridge's art is upbeat and bold, and he lives with his wife and their five children in Utah.
Praise For…
---
"The popular nursery rhyme 'This Old Man' gets a fresh twist in this picture book filled with rhyming and counting fun. . . . Clever use of alliteration and rhyme, as well as laugh-out-loud funny tongue-twisters, complement the singsong nature of the story, making this an ideal book for both storytimes and one-on-one sharing. The bright, lively cartoon art complements the story, blending likability with silliness, and is sure to encourage readers to sing along." —School Library Journal

"Counting and silly sounds merge in this boisterous Wild West riff on 'This Old Man.' . . . A rowdy sing-along that may inspire kids' own musical improvisations." —Publishers Weekly

"The popular nursery rhyme 'This Old Man' gets a fresh twist in this picture book filled with rhyming and counting fun. . . . Clever use of alliteration and rhyme, as well as laugh-out-loud funny tongue-twisters, complement the singsong nature of the story, making this an ideal book for both storytimes and one-on-one sharing. The bright, lively cartoon art complements the story, blending likability with silliness, and is sure to encourage readers to sing along." —School Library Journal

"Counting and silly sounds merge in this boisterous Wild West riff on 'This Old Man.' . . . A rowdy sing-along that may inspire kids' own musical improvisations." —Publishers Weekly