Express Yourself: A Hand Lettering Workbook for Kids: Create Awesome Quotes the Fun & Easy Way! (Paperback)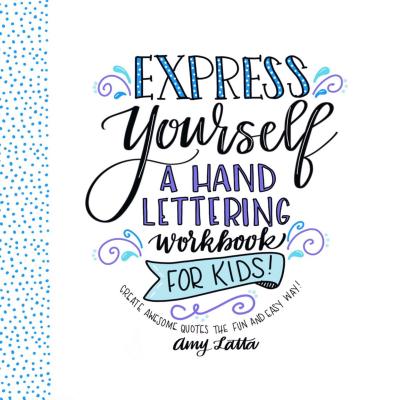 $19.99
Not In Stock - Usually Available in 1-5 Days
Description
---
Personalize Your School Supplies, Room Décor, Note Cards & More!
Decorate your life with fun fonts and beautiful quotes made your way. Amy Latta will show you the basics of hand lettering and beyond. Learn fancy cursive and watercolor lettering. Add adorable details like flowers and animals. In the craft bonus section, you'll find ideas on how to turn your finished work into fabulous DIY projects. Embellish pillows, notebooks and wall art with your own unique writing. It's easy to share your art online, and make one-of-a-kind cards and invitations for friends and family.
With high-quality art paper and practice space, you can try your new hobby right on these pages. It's the perfect activity for kids ages 10 and up to do at home, after school or on the go. Once you've mastered the quotes in this book, you can change up words or styles to make them your own. Packed with tons of creative ideas and helpful tips, this book will inspire you to create your own art every day.
Keep the creativity flowing with these other books in Amy Latta's bestselling hand lettering workbook series:
- Hand Lettering for Relaxation
- Hand Lettering for Laughter
- Hand Lettering for Faith
About the Author
---
Amy Latta is the author of the bestseller Hand Lettering for Relaxation. She's an artist, hand lettering designer and the founder of OneArtsyMama.com. As a former teacher and mama of two boys, she loves working with kids and teaching them lettering. Amy lives in Hampstead, Maryland.
Praise For…
---
"You can truly see Amy's passion for inspiring others to embrace their own hand lettering and create art throughout this entire book! You'll enjoy how Amy breaks down each step to make creating art like hers achievable for all readers."
—Tanner Bell, co-founder of A Little Craft In Your Day
"This book is perfect for the creative child who loves to doodle. What a great opportunity for kids to express their inner artist!"
—Amy Anderson, author of Mod Podge Rocks!
"Fabulous! This book is a lettering dream come true for children of all ages."
—Laura Kelly, licensed doodle artist and founder of Me and My Inklings
"Amy Latta has done it again! Kids will love learning the art of hand lettering in this easy-to-follow book."
—Katie Wyllie, author of Kids' Treats and founder of Made to Be a Momma
"Giving children opportunities to explore their creativity is critical for their intellectual and social/emotional growth. Express Yourself: A Hand Lettering Workbook for Kids is a wonderful tool for children and tweens to explore their feelings while enhancing their fine motor skills and artistic imagination."
—Elena Epstein, National Parenting Product Awards Director