Home and Away: One Writer's Inspiring Experience at the Homeless World Cup (Hardcover)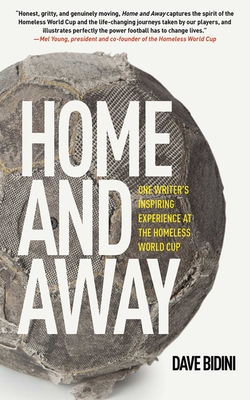 $22.95
Email or call for price.
Description
---
In 2008, Dave Bidini accompanies Homeless Team Canada to the Homeless World Cup—an annual street soccer tournament with goals unlike any other: the most important of which is to create life-changing opportunities for the millions of homeless people worldwide. In Melbourne, Australia, Bidini watches team members play and shares the disappointments, frustrations, joys, and triumphs of forty-five-year-old Billy, who is a former addict; the quick-footed twenty-four-year-old Moroccan immigrant Juventus, who refuses to talk about his past; and most of all, the endearing teenaged Krystal, who carries a photograph of her long-dead mother and dreams of a better life.

Bidini begins to understand what this tournament means to all those involved. He sees firsthand the power of sport to transform the lives of those on the edge—how the decision to play this game can mean the difference between survival and heading down a road of addiction, poverty, or crime. Home and Away offers a powerful look at the poor and dispossessed, from the barrios of Mexico City and the shanties of West Africa to the streets of North America and Europe, illuminating the renewed meaning that these players find in such an inspiring game.