The Seven Deadly Sins 1 (Seven Deadly Sins, The) (Paperback)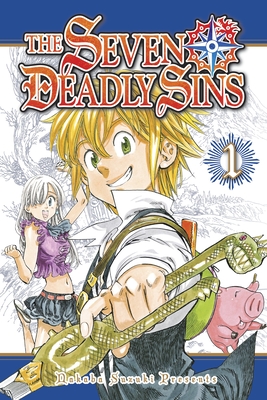 Staff Reviews
---
Enter the land of Britannia, a place full of magic where humans, giants, and fairies live. Here we follow Princess Elizabeth and Meliodas, Captain of the legendary, and supposedly traitorous, group of knights known as the Seven Deadly Sins as they set out on a journey to track down the rest of the Sins and save her kingdom. But there is more to this story than meets the eye. A resurrected war between demons and goddesses, an ancient curse, and forbidden romance combine into the epic story of The Seven Deadly Sins. It's awesome!
— Marielle
Description
---
When they were accused of trying to overthrow the monarchy, the feared warriors the Seven Deadly Sins were sent into exile. Princess Elizabeth discovers the truth - the Sins were framed by the king's guard, the Holy Knights - too late to prevent them from assassinating her father and seizing the throne! Now the princess is on the run, seeking the Sins to help her reclaim the kingdom. But the first Sin she meets, Meliodas, is a little innkeeper with a talking pig. He doesn't even have a real sword! Have the legends of the Sins' strength been exaggerated...?
About the Author
---
Nakaba Suzuki is one of only a few manga artists to have work published in all of the "big three" boys' magazines: Shonen Jump, Shonen Sunday, and Shonen Magazine.The Seven Deadly Sins is his first series to be translated into English.