Vegan Challenge: The 30-Day Program for Eating Healthier and Improving Your Diet with Vegan Foods (Paperback)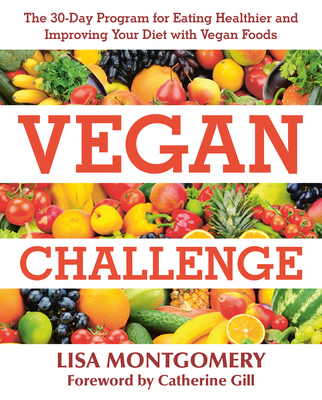 Email or call for price.
Special Order - Not Available for Web Order
Description
---
Take the 30-Day Vegan Challenge and Discover a Happier, Healthier You!

The secret to building successful healthy habits is commitment and consistency. That's what makes Vegan Challenge a fun and easy way to adopt a healthy vegan lifestyle—all in just 30 days!

The Vegan Challenge program is designed to help guide you, day by day, towards a healthier way of life through small, gradual lifestyle changes that anyone can make! Whether you're looking for a new way to eat healthy or you've always been interested in veganism but didn't know where to start, take the guesswork out of your vegan experience with the Vegan Challenge 30-day planner, complete with daily recipes, helpful hints, and words of inspiration.

Utilizing a tried-and-true program started by Kimberton Whole Foods and run by Certified Health Coach Lisa Montgomery, the 30-day Vegan Challenge will help you:

   • Prepare a wide variety of delicious, nutritious vegan recipes
   • Design a  new diet plan centered around health-supporting vegan dishes
   • Stay motivated and engaged using the Vegan Challenge journaling pages
   • Live dynamically with the help of the vegan diet!


Vegan Challenge features over 125 delicious, original recipes from Lisa Montgomery and Vegan Challenge contributors, including:
   • Pomaberry Slushee
   • Smokey Mushroom Risotto
   • Quinoa Nori Salad
   • Green Supreme Smoothie
   • Three Nut Basil Pesto Pasta
   • Mediterranean Layer Pie
   • Energy Smoothie Bowl
   • Dirty Chocolate Cake
   • Vegan Thai Curry

Remember, Vegan Challenger: YOU are in control of your diet and your life, so let Vegan Challenge help you maximize the potential of your food—and yourself!
About the Author
---
Lisa Montgomery is a Holistic Health Care Practitioner, and has graduated from the Living Light Culinary Arts Institute as an associate/chef instructor. She is the author of many raw cookbooks including The Complete Book of Raw Food Volume 2, Liquid Raw, Raw Garden, Raw Survival and many more. For more information about Lisa, visit www.livingdynamically.com.

Catherine Gill is a writer, blogger, and holistic vegan chef who specializes in natural and health foods. She studied and found her passion in writing, literature, and social science in college. She runs the popular blog The Dirty Vegan since 2010, focusing on comfort-food-style vegan recipes that are fun, accessible, and healthy. She also ran Dirty Vegan Foods, a vegan bakery specializing in veganized versions of classic desserts. She has an active social media presence with over 19K followers on twitter (@TheDirtyVegan). She currently resides in New England with her husband, daughter, and rescue dog.
Praise For…
---
"...ideal for vegan beginners and anyone else interested in trying a fresh and healthy new diet."
-- Midwest Book Review