The Lighter Side of Life (Hardcover)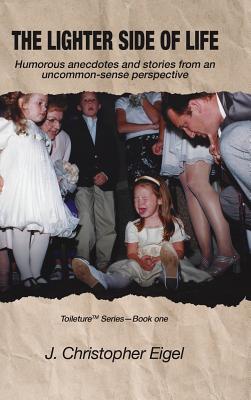 $24.99

Not In Stock - Usually Available in 1-5 Days
Description
---
Anyone from baby boomers to millennials who appreciates sarcasm will laugh out loud at the stories and often relatable life experiences of Eigel, as they are representative of American life.

This is the first book in the ToiletureTM Series. Toileture is a term Eigel has coined that defines the stories as: Literature in short form that can be read during one "sitting".

These anecdotes and stories are not moderated by political correctness. So, enjoy and take no offense, for certainly none is intended. As Mark Twain famously opined, "Life is short, break the rules. Forgive quickly, kiss slowly. Love truly. Laugh uncontrollably. And never regret anything that makes you smile."

faint] Praise for THE LIGHTER SIDE OF LIFE

"This book was not reviewed nor read by JEFF FOXWORTHY. He probably would not have liked it."
--Anonymous

"Eigel dishonors the legacy of Star Trek and tarnishes the iconic uniform of a Starship Captain."
--What WILLIAM SHATNER likely would say, had he seen the Author photo

"I love these stories, they are so well crafted. I don't like the drinking parts though; why do you have to tell those parts?"
--SUZANNE, Eigel's Mother

"I haven't read these yet... I lived them, why do I have to read them?"
--MAUREEN, Eigel's Wife

Eigel grew up loving the likes of Lewis Grizzard and Paul Harvey and having a passion for the written word. Starting in 1996, he began writing an annual Christmas letter to be the antithesis of the typical letters. Self-deprecating humor and sarcasm were the impetus of his stories: real, embellished, or made up out of whole cloth. Those and many more are now compiled in this first book of Toileture.

In addition to this book, he has written a biographical novella about his Father-in-law's experiences up to and through WWII, including the remarkable reuniting of four separated brothers following the Battle of the Bulge titled: 18 Hours in Li ge--a Soldier's Story.