If I See You Again Tomorrow (Hardcover)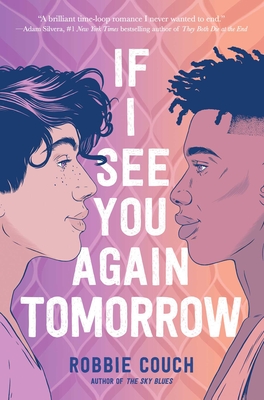 Staff Reviews
---
IF I SEE YOU AGAIN TOMORROW brings together time-loops and teen drama in a thrilling, fast-paced read. As we read about Clark and his race to escape his time-loop before his 365th day (with the help, or lack-thereof, of Beau, a mysterious deviation in his never-ending Monday), ROBBIE COUCH introduces side characters whose stories are as real and heart-wrenching as the main characters'. At its heart, this book is a story of kindness, and the way we can change the lives of those around us by slowing down and offering a helping hand; I could not put it down!
— Mackenzie
Description
---
A New York Times bestseller!

From the author of The Sky Blues and Blaine for the Win comes a speculative young adult romance about a teen stuck in a time loop that's endlessly monotonous until he meets the boy of his dreams.

For some reason, Clark has woken up and relived the same monotonous Monday 309 times. Until Day 310 turns out to be…different. Suddenly, his usual torturous math class is interrupted by an anomaly—a boy he's never seen before in all his previous Mondays.

When shy, reserved Clark decides to throw caution to the wind and join effusive and effervescent Beau on a series of "errands" across the Windy City, he never imagines that anything will really change, because nothing has in such a long time. And he definitely doesn't expect to fall this hard or this fast for someone in just one day.

There's just one problem: how do you build a future with someone if you can never get to tomorrow?
About the Author
---
Robbie Couch is a Los Angeles-based writer who spends his time eating noodles, scrolling on his phone, and explaining to confused strangers that his last name is pronounced "like a sofa." He is the author of The Sky Blues, Blaine for the Win, If I See You Again Tomorrow, and Another First Chance. Follow him on Twitter, if you dare @Robbie_Couch.
Praise For…
---
* "The story is structured around a series of deviations and mysteries; as each mystery is solved, a new one springs up, spurring the plot onward and making the novel compulsively readable. In addition to excellent structure and pacing, Couch also provides a compelling, endearing narrator in Clark."
— Bulletin of the Center for Children's Books

Clark has been stuck in September 19th for 309 days before he finally tells his therapist the truth: he's lonely. Partly it's due to his parents' divorce, partly due to his best friend moving to another state, but mostly it's due to the September 19th time loop itself, of which only Clark is aware. Clark's confession, however, prompts the first deviation in 309 consecutive days when his therapist gives him four tips to beating loneliness, the first of which is to make a new friend. Making a new friend in a time loop seems impossible until day 310, when a boy whom Clark has never seen before in all the previous September 19ths shows up in his trig class, and the two end up spending a whirlwind afternoon together. Beau doesn't appear again on day 311, though, and Clark wonders if Beau could be stuck in the time loop as well, and if so, perhaps together they can finally learn how to escape. The time loop mechanic has the potential to be repetitive, but Couch makes the excellent decision to begin the narrative right at the moment that things in Clark's Groundhog Day begin to change. The story is structured around a series of deviations and mysteries; as each mystery is solved, a new one springs up, spurring the plot onward and making the novel compulsively readable. In addition to excellent structure and pacing, Couch also provides a compelling, endearing narrator in Clark as a teen struggling to see beyond the end of his nose in his increasingly narrowing world for which the time loop is only partly to blame. In order to escape, Clark has to grow up and seize upon the rare opportunity the universe has granted him: a chance to do better. AT
— BCCB, starred review

 

* "Couch has done an excellent job of breathing new life into an old trope, crafting a clever plot with complex, likable characters. Along the way, he keeps readers on their toes.... If Couch occasionally throws his readers for a loop, they'll be glad he does."
— Booklist, starred review

* "Couples a vivacious queer romance with an emotionally intelligent time loop tale, meshing Groundhog Day with Ferris Bueller's Day Off....Their day-after-day cat-and-mouse game, which never feels dull despite repeating events, eloquently explores themes of loneliness, love and forgiveness, and the quiet power of kindness, all while maintaining ticking-clock suspense."
— Publisher's Weekly, starred review

"The romance itself is strange and satisfying, consisting of both classic meet-cute instant attraction between Clark and Beau and slow-burn character development as Clark hunts for Beau and seeks to learn more about him....An engaging, sweet, and emotional journey."
— Kirkus Reviews

"'If I See You Again Tomorrow' is easily Robbie Couch's best, most compelling offering yet. He's already proven himself an indelible master of the queer YA romantic comedy and builds on that skill with clever twists, excellent pacing and edge-of-your-seat suspense. I know people say they could not put this book down, but I truly could not put this book down. It almost made me want to get whisked away into a time loop of my own for a spell – but overall, it simply made me feel less alone."
—  David Oliver, entertainment reporter, USA Today

"What's better than a love story set over the course of a single day? Reliving that day over and over. Or is it? Sometimes dreamy, sometimes nightmarish, If I See You Again Tomorrow is a brilliant time loop romance I never wanted to end. You'll love following Robbie Couch's lonely hero as he seeks someone to spend infinity with, even when it plays with your heart time and time (and time and time) again."
— Adam Silvera, #1 New York Times bestselling author of They Both Die at the End