These Violent Delights (These Violent Delights Duet #1) (Hardcover)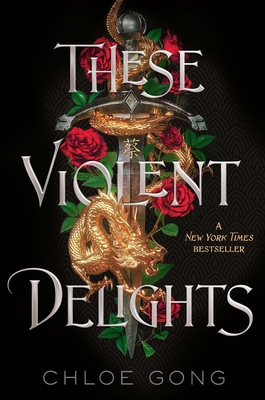 Staff Reviews
---
I have been anticipating this book for such a long time, and I am so glad to say that it did not disappoint! It's so surprising that Gong is a debut author, because she expertly crafted a fun and creative world. I loved getting to learn about the gangs, and the characters in each of them. I enjoyed the retelling parts of this the most, and I found myself enthralled throughout the story. I am going to be recommending this book for a while!
— Anna
A fresh take on the Shakespearean classic Romeo and Juliet set in 1920s China follows two rival gangs as a mysterious sickness plagues the city. And something ancient and evil is lurking in the Huangpu River, making the citizens go mad. Chloe Gong is an author to watch out for, as this (her debut novel) blew me away and is a must-read!
— Rachele
Winter 2020 Kids Indie Next List
---
"A completely unique and 1920s take on the Romeo and Juliet story. I am in love with these characters and the amazing, supernatural Shanghai world Gong created. These Violent Delights combines historical relevance, racism, and colonial rule with a rival love story that doesn't start out that way. So gripping and exciting."
— Lauren Nopenz Fairley, Curious Iguana, Frederick, MD
Description
---
An Instant New York Times Bestseller!
A BuzzFeed Best Young Adult Book of 2020

Perfect for fans of The Last Magician and Serpent & Dove, this heart-stopping debut is an imaginative Romeo and Juliet retelling set in 1920s Shanghai, with rival gangs and a monster in the depths of the Huangpu River.

The year is 1926, and Shanghai hums to the tune of debauchery.

A blood feud between two gangs runs the streets red, leaving the city helpless in the grip of chaos. At the heart of it all is eighteen-year-old Juliette Cai, a former flapper who has returned to assume her role as the proud heir of the Scarlet Gang—a network of criminals far above the law. Their only rivals in power are the White Flowers, who have fought the Scarlets for generations. And behind every move is their heir, Roma Montagov, Juliette's first love…and first betrayal.

But when gangsters on both sides show signs of instability culminating in clawing their own throats out, the people start to whisper. Of a contagion, a madness. Of a monster in the shadows. As the deaths stack up, Juliette and Roma must set their guns—and grudges—aside and work together, for if they can't stop this mayhem, then there will be no city left for either to rule.
About the Author
---
Chloe Gong is the #1 New York Times bestselling author of the critically acclaimed Secret Shanghai novels, as well as the Flesh and False Gods trilogy. Her books have been published in over twenty countries and have been featured in The New York Times, People, Forbes, and more. She is a recent graduate of the University of Pennsylvania, where she double-majored in English and international relations. Born in Shanghai and raised in Auckland, New Zealand, Chloe is now located in New York City, pretending to be a real adult.
Praise For…
---
"The Bard would surely approve."
— The New York Times Book Review

"A deliciously dark twist on Romeo and Juliet that feels vibrant, modern, and wholly exciting. Gong's writing brims with energy. I was swept away to her dark Shanghai from the first page and never wanted to leave!"


— Natasha Ngan, New York Times bestselling author of Girls of Paper and Fire

"Chloe Gong's These Violent Delights cuts to the heart of twentieth-century China with its scalpel-sharp prose and steel-spirited protagonists. Juliette Cai and Roma Montagov shine brighter than the glitz and glamour of historical Shanghai; sparks fly when they clash in this action-packed story set amidst a backdrop of blood feuds, gang wars, and political upheaval."
— Amelie Wen Zhao, author of Blood Heir

"Chloe Gong's These Violent Delights plants a Shakespearean classic in the rich soil of 1920s Shanghai, allowing her characters to grow, flourish, and steal your heart while warring against their own."
— Joan He, author of Descendant of the Crane

"Heady, smart, and vicious, These Violent Delights strikes every note with precision, layering romance and politics into a roaring 20s Shanghai of both monsters and monstrous imperialism."
— Tessa Gratton, author of The Queens of Innis Lear

"Full of glitter, suspense and gore, These Violent Delights takes readers into the perilous world of 1926 Shanghai. With the body count rising, and a monster lurking in the Huangpu River, Juliette Cai and Roma Montagov must put aside their differences and work together to save their city. Chloe Gong's debut is a terrific, deliciously unputdownable read!"
— June Hur, author of The Silence of Bones

A monster spreads madness through the streets of Shanghai.

It is the autumn of 1926, and Shanghai is poised at the brink of transformation. Foreign powers have carved out portions of the city for themselves; what remains is divided between two feuding gangs, the Chinese Scarlet Gang and the Russian White Flowers. Eighteen-year-old Juliette Cai has returned home from New York City, wreathed in a reputation for ruthlessness and ready to step into her role as heir to the Scarlet Gang. Four years ago, a betrayal by the White Flowers heir, Roma Montagov, a young man of 19, led to the deaths of countless Scarlets, and Juliette is determined to avenge her gang. But when a lethal contagion strikes the city, targeting Scarlets and White Flowers alike, Juliette and Roma grudgingly agree to cooperate on an investigation in order to save their city. The slow-burning romance in this book takes a back seat to the gripping mystery grounded in immersive historical detail. Allusions to Romeo and Juliet are evident in names and specific scenes, but familiar themes of family, loyalty, and identity bear new significance in Gong's inventive adaptation. Language is a tool wielded deftly by the multilingual characters, who switch easily among English, French, Shanghainese, Russian, and more, with Mandarin as the primary dialect for Chinese phrases. A strong supporting cast that includes a trans girl completes this striking debut.

A must-read with a conclusion that will leave readers craving more. (Historical fantasy. 13-18)
— Kirkus Reviews, STARRED

This exciting debut brings readers to 1920s Shanghai—in the wake of the Opium Wars and the rise of communism—and an unforgettable reimagining of Romeo and Juliet where rival factions the Scarlet Gang and the White Flowers battle for financial and political control of their city. Juliette Cai, the fearless, ruthless, New York–educated heir to the Scarlets, will capture readers' hearts as she evades unwelcome advances from a shifty merchant, goes adventuring with her familial allies, and manages the rising conflicts between the Cais and their sworn enemies, the Russian Montagov family. Gong brings a high literary style and Shakespearean inspiration to a wholly unique world, from the vivid characterization of Roma Montagov and his mysterious connection to—and traumatic betrayal of—Juliette, to the banter, plot twists, and meticulous details on fashion. In addition to the expected tragic bloodshed, silver eyes have been spotted in the Huangpu River. Rumors speak of a guài (monster) that has the power to cause a suicidal madness in the people of Shanghai, and the gangs must work together to save Shanghai—and themselves. Amid the impressive world building, Gong's characters encounter vaccines in vials, xenophobic tendencies, and the interweaving of delightful Shanghainese dialogue, bringing to life a high-energy novel about how people can be monsters, too.
— Booklist, STARRED Review

*GONG, Chloe. These Violent Delights. 464p. S. & S./Simon Pulse. Nov. 2020. Tr $19.99. ISBN 9781534457690.

Gr 8 Up–Insta-love reminiscent of Romeo and Juliet occurred four years before this story begins, leaving Juliette and Roma the bitterest of exes. Juliette Cai, daughter and heir to Lord Cai of the Scarlet Gang, has returned from New York to find Shanghai drastically changed from the city she and Roma talked about ruling. Foreigners have taken chunks of the city, leaving the Russian White Flowers—ruled by the Montagovs—and the Scarlets to fight over what's left. Now an infectious madness spreads through both gangs, leaving its victims to claw their own throats out. When Roma's little sister Alisa is infected, he teams up with Juliette to hunt down the cause and the cure. The cast of characters is diverse in ethnicities and identities. Roma and his cousin Benedikt are white, and their fellow White Flower Marshall Seo is Korean and queer. Juliette and her twin cousins Kathleen and Rosalind are Chinese; Kathleen is a trans woman. Gong combines star-crossed lovers with a gripping mystery, violent blood feud, and the glamour of 1926 Shanghai, turning the familiar play into a story readers have never seen before. Shakespeare fans will feel rewarded by parallels in the retelling, but Gong's writing has a sharp wit and offers new, thrilling stakes for all her readers. VERDICT Gong's debut is not to be missed. With a dazzling setting, a mysterious series of murders, and diverse, unapologetically criminal characters, this novel ranks with the greatest YA ­retellings.

–Emmy Neal, Lake Forest Lib., IL
— School Library Journal STARRED REVIEW

1926 Shanghai is no place for the faint-hearted, not when the streets run red as the Scarlet Gang and the White Flowers continue their endless turf war. Juliette Cai, heir to the Scarlet Gang's control, is as cold-blooded as they come, and her ruthless ambition is bolstered by the fury she feels toward Roma Montagov, her ex and the next in line as the White Flower's leader. Roma does his best to avoid Juliette, but then several of his men are found dead after having apparently clawed their own necks open; rumors swirl of a monstrous creature stalking the residents, a strange sickness spreads through the city, and the former star-crossed lovers are forced together to figure out how to take back their streets from an unexpected force. Romeo and Juliet is masterfully transformed from doomed teenaged love story to a thrilling blend of political intrigue, gruesome horror, race-against-the-clock mystery, and, yes, romance, set against a city that becomes a character in its own right. No one's moral compass points north in this story, and Juliette's is well near shattered, but many of the characters are compelling and even likable despite their criminal tendencies. Gong gives a respectful nod to Shakespeare's original cast iteration before revisioning her own and bringing it into a setting rife with violence and vengeance. A legendary creature that infects its victims' brains so that they brutally kill themselves is made to believably exist amidst the political upheaval of Shanghai, making a fascinating exploration of the various foreign interests in the city equally as enthralling as the book's horror elements. Given the source material, readers may be surprised by the cliffhanger ending, but they'll be anxiously waiting to see if a tragic fate comes for Roma and Juliette in the sequel, or if they'll slay the various monsters to get to their own happy ending. KQG
— BCCB

This mesmeric fantastical reinterpretation of Romeo and Juliet nestles the star-crossed lovers—renamed Roma Montagov and Juliette Cai—in an atmospheric mid-1920s Shanghai, where the Russian Montagovs, head of the White Flowers, and the Chinese Cais, head of the Scarlet Gang, have been embroiled in an age-old blood feud. Freshly returned from New York City, 18-year-old Juliette struggles to be respected as the heir of the Scarlets, since cultural sexism deems her hotheaded cousin Tyler, also 18, more worthy of deference. Meanwhile, Roma, 19, has never regained favor in his father's eyes after the bloody attack that wrested Roma from Juliette's good graces four years previously. But with colonial and communist tensions rising within Shanghai and "a strange madness"—linked to a rumored river monster—compelling men on every side to tear out their own throats, former lovers Roma and Juliette must reunite and surmount the bad blood between them if they have any hope of saving their city. Gong's incisive retelling imbues a thoroughly modern richness, with arresting prose and an inclusive cast. A lush, wholly original debut that will satiate Shakespeare aficionados and draw those seeking an engrossing, multifaceted historical fantasy. Ages 14–up. (Nov.)
— Publishers Weekly *STARRED*