Switching Goals (The Kicks) (Paperback)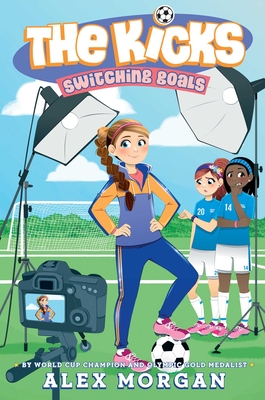 Description
---
From FIFA World Cup Champion, Olympic gold medalist, and bestselling author Alex Morgan comes the tenth book in an empowering and fun-filled middle grade series that inspired the streaming original series, The Kicks!

Frida is convinced Devin is her good luck charm. So when Frida lands an audition for a commercial, she begs Devin to come with her.

But while she waits backstage, Devin has a bit of god luck of her own—an agent spots her and thinks she'd be perfect to model for an athletic wear photo shoot!

Devin doesn't know anything about modeling, but she decides to give it a go. Soon, though, her modeling and soccer schedules start to conflict, and Devin feels like she's letting her team down in all the chaos. She knows she has to choose between soccer and modeling, but with everyone talking about her playing in college and the rest of the Kicks obsessing over a fortune-telling app, it feels like Devin has to choose her whole future right now too.

Is soccer the goal Devin really wants to keep going for? Or will she shift her eye to another prize?
About the Author
---
Alex Morgan became the youngest member of the US women's national soccer team in 2009 and competed in the 2011 FIFA World Cup. She was the first overall pick in the 2011 Women's Professional Soccer draft and landed a spot on the US Olympic women's soccer team in 2012. At the 2012 Summer Olympic Games, held in London, Morgan won her first Olympic medal, a gold, with the American team. In 2015, she achieved her lifelong goal of winning a World Cup trophy, in the most-watched soccer match in US history. She now plays for the Orlando Pride in Orlando, Florida.