Timekeeper (Paperback)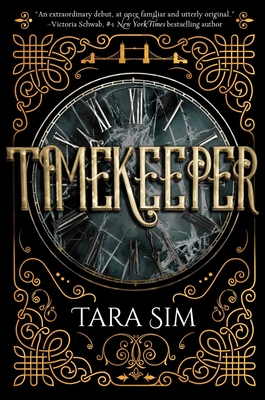 Other Books in Series
This is book number 1 in the Timekeeper series.
Staff Reviews
---
Marielle's Pick
Enter an alternate Victorian world where time is tangible, which can be fractured—or stopped completely. After surviving a terrible accident, 17-year-old prodigy mechanic Danny is shaken, and when he gets called to Enfield due to 2 o'clock literally disappearing he can't afford to be. And when Danny meets a strange boy named Colton, things get really complicated. Danny never believed in the old myths of clock spirits and he never expected to fall in love with one. But as Danny and Colton grow closer, bombings hit clock towers across England putting Colton and his tower in danger.
Steampunk fantasy and forbidden romance in this awesome story!
— From
Summer Staff Picks
Description
---
"Timekeeper is a triumph." –Bustle
"Timekeeper's premise is original and its world unique." —EW.com

"I was in an accident. I got out. I'm safe now." An alternate Victorian world controlled by clock towers, where a damaged clock can fracture time—and a destroyed one can stop it completely.

A prodigy mechanic who can repair not only clockwork, but time itself, determined to rescue his father from a Stopped town.

A series of mysterious bombings that could jeopardize all of England.

A boy who would give anything to relive his past, and one who would give anything to live at all.

A romance that will shake the very foundations of time.

The first book in a dazzling new steampunk-fantasy trilogy, Timekeeper introduces a magical world of mythology and innovation that readers will never want to leave.
About the Author
---
Tara Sim can typically be found wandering the wilds of the Bay Area in California. When she's not chasing cats or lurking in bookstores, she writes books about magic, clocks, and explosives. She is the author of Timekeeper and Chainbreaker. Follow her on Twitter at @EachStarAWorld, and check out her website for fun Timekeeper extras.
Praise For…
---
Paste Magazine Best Book 2016
Barnes & Noble Teen Blog Best Queer Fantasy 2016

"Timekeeper is an extraordinary debut, at once familiar and utterly original. Between its compelling world, its lovely prose, and its wonderful characters, the pages flew by." —Victoria Schwab, #1 New York Times bestselling author

"Alive with myth, mystery, and glorious romance, Timekeeper will keep hearts pounding and pages turning til the stunning conclusion. Reader beware—there's magic in these pages." —Heidi Heilig, author of The Girl from Everywhere

"Timekeeper is a triumph . . . If you read only one such book . . . let it be this one." –Bustle

"Timekeeper's premise is original and its world unique." —EW.com

"While the world is wildly interesting and fantastic, with broken clock towers that have left towns frozen in time, it's the emotional impact and diverse cast of characters that make this book soar . . . The resulting story is an exciting and inclusive one, drawing in elements of magic, mystical spirits, swoon-filled romance, and just so much more." —BookRiot

"Part mystery and part romance, this fantasy novel delves into what it means to grow up and make important decisions. With an easily relatable main character struggling to fit in, the novel has a realistic and contemplative voice. VERDICT: A must-have richly written fantasy novel that will have readers eagerly anticipating the next volume." —School Library Journal

"Sim creates a cast of complex and diverse characters, as well as a mythology to explain how the clock towers came to exist . . . an enjoyable, well-realized tale." —Publishers Weekly

"[M]ystery, LGBTQ romance, and supernatural tale of clock spirits and sabotage that explores how far people might go for those they love. Its strongest elements are the time-related mythology and the supernatural gay romance." —Booklist

"This LGBTQ steampunk romance sports a killer premise and admirably thorough worldbuilding, helpfully annotated in the author's afterword. The characters—even the bad guys—are sympathetically drawn and commendably diverse in sexuality and gender." —Kirkus Reviews

"An enjoyable start to a promising new trilogy." —BookPage

Paste Magazine Best Book 2016
Barnes & Noble Teen Blog Best Queer Fantasy 2016

"Timekeeper is an extraordinary debut, at once familiar and utterly original. Between its compelling world, its lovely prose, and its wonderful characters, the pages flew by." —Victoria Schwab, #1 New York Times bestselling author

"Alive with myth, mystery, and glorious romance, Timekeeper will keep hearts pounding and pages turning 'til the stunning conclusion. Reader beware—there's magic in these pages." —Heidi Heilig, author of The Girl from Everywhere

"Timekeeper is a triumph . . . If you read only one such book . . . let it be this one." –Bustle

"Timekeeper's premise is original and its world unique." —EW.com

"While the world is wildly interesting and fantastic, with broken clock towers that have left towns frozen in time, it's the emotional impact and diverse cast of characters that make this book soar . . . The resulting story is an exciting and inclusive one, drawing in elements of magic, mystical spirits, swoon-filled romance, and just so much more." —BookRiot

"Part mystery and part romance, this fantasy novel delves into what it means to grow up and make important decisions. With an easily relatable main character struggling to fit in, the novel has a realistic and contemplative voice. VERDICT: A must-have richly written fantasy novel that will have readers eagerly anticipating the next volume." —School Library Journal

"Sim creates a cast of complex and diverse characters, as well as a mythology to explain how the clock towers came to exist . . . an enjoyable, well-realized tale." —Publishers Weekly

"[M]ystery, LGBTQ romance, and supernatural tale of clock spirits and sabotage that explores how far people might go for those they love. Its strongest elements are the time-related mythology and the supernatural gay romance." —Booklist

"This LGBTQ steampunk romance sports a killer premise and admirably thorough worldbuilding, helpfully annotated in the author's afterword. The characters—even the bad guys—are sympathetically drawn and commendably diverse in sexuality and gender." —Kirkus Reviews

"An enjoyable start to a promising new trilogy." —BookPage

Paste Magazine Best Book 2016
Barnes & Noble Teen Blog Best Queer Fantasy 2016

"Timekeeper is an extraordinary debut, at once familiar and utterly original. Between its compelling world, its lovely prose, and its wonderful characters, the pages flew by." —Victoria Schwab, #1 New York Times bestselling author

"Alive with myth, mystery, and glorious romance, Timekeeper will keep hearts pounding and pages turning til the stunning conclusion. Reader beware—there's magic in these pages." —Heidi Heilig, author of The Girl from Everywhere

"Timekeeper is a triumph . . . If you read only one such book . . . let it be this one." –Bustle

"Timekeeper's premise is original and its world unique." —EW.com

"While the world is wildly interesting and fantastic, with broken clock towers that have left towns frozen in time, it's the emotional impact and diverse cast of characters that make this book soar . . . The resulting story is an exciting and inclusive one, drawing in elements of magic, mystical spirits, swoon-filled romance, and just so much more." —BookRiot

"Part mystery and part romance, this fantasy novel delves into what it means to grow up and make important decisions. With an easily relatable main character struggling to fit in, the novel has a realistic and contemplative voice. VERDICT: A must-have richly written fantasy novel that will have readers eagerly anticipating the next volume." —School Library Journal

"Sim creates a cast of complex and diverse characters, as well as a mythology to explain how the clock towers came to exist . . . an enjoyable, well-realized tale." —Publishers Weekly

"[M]ystery, LGBTQ romance, and supernatural tale of clock spirits and sabotage that explores how far people might go for those they love. Its strongest elements are the time-related mythology and the supernatural gay romance." —Booklist

"This LGBTQ steampunk romance sports a killer premise and admirably thorough worldbuilding, helpfully annotated in the author's afterword. The characters—even the bad guys—are sympathetically drawn and commendably diverse in sexuality and gender." —Kirkus Reviews

"An enjoyable start to a promising new trilogy." —BookPage