Lost in the End: Lost Minecraft Journals, Book Three (Lost Minecraft Journals Series) (Paperback)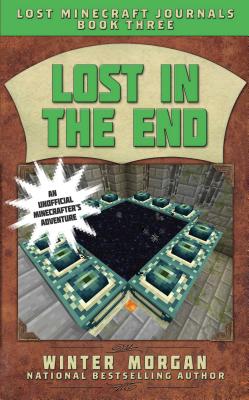 Description
---
Harriet, Jack, and Toby are treasure hunters, searching the Minecraft world for its most valuable hidden secrets. In an abandoned mineshaft, they discovered the first of three lost journals that once belonged to William, a legendary explorer who has gone missing. The journals have taken them on a daring adventure to a secret temple deep within a desert biome, then into the perilous depths of the Nether. Now the treasure hunters are facing their greatest challenge yet.

This time, they're certain they're close to finding William. They find themselves traveling deep into the ocean and atop the highest mountains, but they just can't find him anywhere. Is it possible the journals are a hoax? Is the explorer missing for good? In one last desperate attempt, the group ventures to the End. But will they survive this last-ditch effort, or have they finally gone too far?

This is the third book in the new Lost Minecraft Journals series. The chapters of each book alternate between the journal entries (William's story) and the story of the treasure hunters. Fans of Minecraft won't want to miss this wild new adventure.

Sky Pony Press, with our Good Books, Racehorse and Arcade imprints, is proud to publish a broad range of books for young readers—picture books for small children, chapter books, books for middle grade readers, and novels for young adults. Our list includes bestsellers for children who love to play Minecraft; stories told with LEGO bricks and Pokemon Go; books that teach lessons about tolerance, patience, and the environment, and much more. While not every title we publish becomes a New York Times bestseller or a national bestseller, we are committed to books on subjects that are sometimes overlooked and to authors whose work might not otherwise find a home.
About the Author
---
Winter Morgan is the author of numerous children's books including national bestseller The Quest for the Diamond Sword, the bestselling unofficial novel for Minecrafters published by Sky Pony Press. She is the author of five other series for Minecraft fans: an Unofficial Gamer's Adventure, the Unofficial League of Griefers Adventure, the Lost Minecraft Journals, the Unofficial Minecrafters Academy Series, and the Unofficial Minetrapped Adventure. Morgan has a video game-addicted son, who inspires her. She lives in Brooklyn, New York.