Nimona (MP3 CD)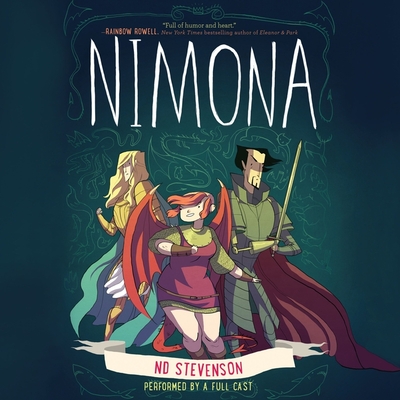 $39.99
Email or call for pricing & availability
Staff Reviews
---
Shape-shifter Nimona convinces Lord Ballister Blackheart that he needs her help to carry out his evil plans and defeat Sir Ambrosius Goldenloin. The latter is with the Instiution of Law Enforcement and Heroics, and both Nimona and Blackheart think it's not as great as everyone thinks it is. Hilarity and destruction ensue as nothing goes according to their wacky plans in this witty and inventive graphic novel. Nimona is an endearing and smart character, and I dare you not to fall in love with her (in all of her many forms).
— Jennifer
Description
---
Indies Choice Book of the Year * National Book Award Finalist * New York Times Bestseller *New York Times Notable Book * Kirkus Best Book * School Library Journal Best Book * Publishers Weekly Best Book * NPR Best Book * New York Public Library Best Book * Chicago Public Library Best Book
An original full cast audio adaptation of the New York Times bestselling graphic novel sensation from Noelle Stevenson, based on her beloved and critically acclaimed web comic.
Nemeses Dragons Science Symbolism All these and more await in this brilliantly subversive, sharply irreverent epic from Noelle Stevenson. Adapted for audio, this brilliant production is perfect for the legions of fans of the web comic and graphic novel, and is sure to win Noelle many new ones. This full cast audio edition is performed by Rebecca Soler, Jonathan Davis, Marc Thompson, January LaVoy, Natalie Gold, Peter Bradbury, and David Pittu, and features original music composed and produced by Loren Toolajian at Sandblast Productions.
Nimona is an impulsive young shape-shifter with a knack for villainy. Lord Ballister Blackheart is a villain with a vendetta. As sidekick and supervillain, Nimona and Lord Blackheart are about to wreak some serious havoc. Their mission: prove to the kingdom that Sir Ambrosius Goldenloin and his buddies at the Institution of Law Enforcement and Heroics aren't the heroes everyone thinks they are.
But as small acts of mischief escalate into a vicious battle, Lord Blackheart realizes that Nimona's powers are as murky and mysterious as her past. And her unpredictable wild side might be more dangerous than he is willing to admit.