The Great Dissenter: The Story of John Marshall Harlan, America's Judicial Hero (Paperback)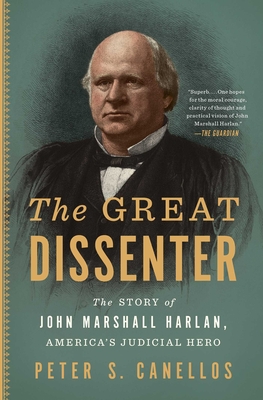 $21.99

Not In Stock - Usually Available in 1-5 Days
Description
---
The "superb" (The Guardian) biography of an American who stood against all the forces of Gilded Age America to fight for civil rights and economic freedom: Supreme Court Justice John Marshall Harlan.

They say that history is written by the victors. But not in the case of the most famous dissenter on the Supreme Court. Almost a century after his death, John Marshall Harlan's words helped end segregation and gave us our civil rights and our modern economic freedom.

But his legacy would not have been possible without the courage of Robert Harlan, a slave who John's father raised like a son in the same household. After the Civil War, Robert emerges as a political leader. With Black people holding power in the Republican Party, it is Robert who helps John land his appointment to the Supreme Court.

At first, John is awed by his fellow justices, but the country is changing. Northern whites are prepared to take away black rights to appease the South. Giant trusts are monopolizing entire industries. Against this onslaught, the Supreme Court seemed all too willing to strip away civil rights and invalidate labor protections. So as case after case comes before the court, challenging his core values, John makes a fateful decision: He breaks with his colleagues in fundamental ways, becoming the nation's prime defender of the rights of Black people, immigrant laborers, and people in distant lands occupied by the US.

Harlan's dissents, particularly in Plessy v. Ferguson, were widely read and a source of hope for decades. Thurgood Marshall called Harlan's Plessy dissent his "Bible"—and his legal roadmap to overturning segregation. In the end, Harlan's words built the foundations for the legal revolutions of the New Deal and Civil Rights eras.

Spanning from the Civil War to the Civil Rights movement and beyond, The Great Dissenter is a "magnificent" (Douglas Brinkley) and "thoroughly researched" (The New York Times) rendering of the American legal system's most significant failures and most inspiring successes.
About the Author
---
Peter S. Canellos is an award-winning writer and former Editorial Page Editor of The Boston Globe and Executive Editor of Politico. He is the editor of the New York Times bestseller, Last Lion: The Fall and Rise of Ted Kennedy.
Praise For…
---
"Solidly accessible and thoroughly researched, it makes a persuasive case for Harlan's significance and sometimes reads like a mystery." — The New York Times

"[A] superb biography...Canellos writes with fluency, sensitivity and clarity about complex legal arguments....June is the traditional month for major supreme court decisions. One hopes for the moral courage, clarity of thought and practical vision of John Marshall Harlan." — Guardian

"One of the most captivating judicial biographies I have read. This is partially due to Canellos' skill as a writer. He displays the journalist's ability to identify and capture a good story, and the talent to turn a phrase. But the thing that makes this book exceptional is how Canellos turns the subject of John Marshall Harlan into a poignant story of time and place in American history." — The Journal of Supreme Court History

"If the power of one's dissents are the measure of a justice's greatness, then John Marshall Harlan, who served on the court between 1877 and 1911, deserves a much bigger tribute...[A] sympathetic and well-written new biography." — Christian Science Monitor

"Written in lively prose and enriched with colorful character sketches and a firm command of the legal issues involved, this is a masterful introduction to two fascinating figures in American history. " — Publishers Weekly (starred review)

"The riveting story of a courageous Kentucky lawyer who initiated significant challenges to anti–civil rights measures during an era of ubiquitous bigotry... An impressive work of deep research that moves smoothly along biographical as well as legal lines." — Kirkus Review (starred review)

"A meticulously researched and acutely analytical biography... Canellos offers a nuanced portrait." —Booklist

"The Great Dissenter is a magnificent biography of the righteous legal trailblazer John Marshall Harlan. Drawing upon a wealth of archival and published sources, deep-diving into the American horror-show of systemic racism, Canellos showcases Harlan as the rare Supreme Court Justice fighting for a more equitable economic system and civil rights for all people. Highly recommended!" — Douglas Brinkley is the Katherine Tsanoff Brown Chair in Humanities and Professor of History at Rice University and New York Times bestselling author of Cronkite and American Moonshot

"What a spectacular achievement! Canellos has single handedly resurrected the memory of a largely forgotten American hero. Far ahead of his time, Justice Harlan denounced corporate power and passionately defended the rights of labor, immigrants and African Americans. On the Supreme Court he was a bold and lonely dissenter, but as this book shows, history vindicates him and awards him a place of high honor in the pantheon of American freedom fighters." — Stephen Kinzer, bestselling author of The Brothers and The True Flag

"Peter Canellos has vividly brought to life an absolutely fascinating story that I'm embarrassed I didn't know: A man raised in a slave-owning family who became one of the greatest champions of civil rights in the history of the Supreme Court, his lone-dissenter opinions cited decades after his death. John Marshall Harlan needs to be added to our pantheon of American heroes." — Adam Hochschild, bestselling author of King Leopold's Ghost and Bury the Chains

"John Marshall Harlan is one of the most fascinating and important figures of modern America, and this book does him justice. Carefully researched, and rewarding even informed readers with rich insight into Harlan's life and work, The Great Dissenter is a must-read, both for students of the Supreme Court, and for those concerned about the past, present, and future of racial equality in the United States." — Gabriel J. Chin, Martin Luther King Jr. Professor of Law, University of California, Davis

"Peter Canellos is a brilliant researcher and writer who takes us on an enlightening tour through history made new in retrospect. His focus on Justice John Harlan's African-American half-brother Robert Harlan, a former slave whose storied career, financial success, and political and race activism were truly remarkable for the day, adds significance and complexity to his storytelling. Both Harlan men taunted and challenged the governmental powers that be, demanding that America tilt toward realizing its best self. This work is a tour de force and every individual interested in the history of our country's political and societal steps, both forward and back, should consider it must reading." — Elizabeth Dowling Taylor, New York Times bestselling author of A Slave in the White House and The Original Black Elite

"Canellos succeeds in showing us how central Justice Harlan's roots— from his Kentucky background to his half-black brother, Robert Harlan— were to shaping many of his views on controversial social issues and landmark civil rights cases in American history." — Nikki Taylor, Chair of the Department of History, Howard University, and author of Frontiers of Freedom and America's First Black Socialist

"The Great Dissenter is a superb achievement. Based on exhaustive research and well written, this study fully explains the forces that shaped a slaveholding Kentucky Unionist, a forward-looking justice, and a great man." — James C. Klotter, The State Historian of Kentucky, and author of Henry Clay and Kentucky

"Canellos's tale of the parallel lives of Justice Harlan and his mixed-race brother, Robert Harlan, delve into the complexities of American life in post-Civil War America and make a significant contribution to the history of one of the greatest Justices of the Supreme Court and Robert Harlan, an unsung hero of African American History." — C. Ellen Connally, Judge (Retired); Former Adjunct Professor of Law, University of Akron College of Law, and member of the Board of Trustees of the Ohio History Connection.