Vacuum in the Dark: A Novel (Paperback)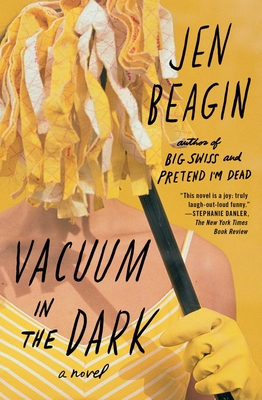 Description
---
From the Whiting Award–winning author of Pretend I'm Dead and one of the most exhilarating new voices in fiction, a "thoroughly delightfully, surprisingly profound" (Entertainment Weekly) one-of-a-kind novel about a cleaning lady named Mona and her struggles to move forward in life.

Soon to be an FX television show starring Lola Kirke.

Mona is twenty-six and cleans houses for a living in Taos, New Mexico. She moved there mostly because of a bad boyfriend—a junkie named Mr. Disgusting, long story—and her efforts to restart her life since haven't exactly gone as planned. For one thing, she's got another bad boyfriend. This one she calls Dark, and he happens to be married to one of Mona's clients. He also might be a little unstable.

Dark and his wife aren't the only complicated clients on Mona's roster, either. There's also the Hungarian artist couple who—with her addiction to painkillers and his lingering stares—reminds Mona of troubling aspects of her childhood, and some of the underlying reasons her life had to be restarted in the first place. As she tries to get over the heartache of her affair and the older pains of her youth, Mona winds up on an eccentric, moving journey of self-discovery that takes her back to her beginnings where she attempts to unlock the key to having a sense of home in the future. The only problems are Dark and her past. Neither is so easy to get rid of.

Jen Beagin's Vacuum in the Dark is an unforgettable, astonishing read, "by turns nutty and forlorn…Brash, deadpan, and achingly troubled" (O, The Oprah Magazine). Beagin is "a wonderfully funny writer who also happens to tackle serious subjects" (NPR).
About the Author
---
Jen Beagin holds an MFA in creative writing from the University of California, Irvine, and is a recipient of a Whiting Award in fiction. Her first novel Pretend I'm Dead was shortlisted for the Center for Fiction's First Novel Prize and Vacuum in the Dark was shortlisted for the Bollinger Everyman Wodehouse Prize for comic fiction. She is also the author of Big Swiss. She lives in Hudson, New York.
Praise For…
---
Praise for Vacuum in the Dark

"A follow-up to the riotous Pretend I'm Dead, this is what a sequel should be: darker, sexier, funnier. By turns nutty and forlorn... Brash, deadpan, and achingly troubled, Mona emerges as that problematic friend you're nonetheless always thrilled to see."
— O, the Oprah Magazine

"This novel is a joy: truly laugh-out-loud funny, while staying grounded and dignified, even as Mona capsizes again and again."
— Stephanie Danler, The New York Times Book Review

"A thoroughly delightfully, surprisingly profound encore. Beagin stands out among fiction's fresh crop of promising voices: Her prose is dry, cutting, and genuinely funny; she loves writing about strange people, an affection which translates in characterizations that stay sharp and peculiar without ever turning cruel... Vacuum proves dramatically satisfying too, as Beagin pushes its boundaries to grant us deeper, darker access into Mona's interior life, and the pain of her troubled past. The character's salty perspective resonates perfectly — a kind, weary, almost laconic wit that carries a sneaky depth."
— Entertainment Weekly

"A wildly exuberant novel that doesn't shy away from the weirder and more disgusting parts of life. Vacuum in the Dark is a funny and surprisingly sweet book about a young woman who grew up too fast and is trying desperately to reinvent herself... Beagin is a wonderfully funny writer who also happens to tackle serious subjects, which few authors are able to pull off successfully... the result is a comic novel that's a joy to read but never frivolous or superficial. Beagin is unafraid to take risks, and they all pay off here — Vacuum in the Dark is an excellent book by a writer with a singular voice."
— NPR

"Energetic... These adventures open up into larger questions of Mona's own stalled artistic ambitions and a reckoning with her estranged mother—issues refracted with black humor and a sense of timing that rarely slackens... The escapades are underpinned by a strong voice that seems to have seen everyone's worst, and to have nothing left to conceal."
— The New Yorker

"Piquantly amusing... Weird, darkly funny... sharply drawn, sexually charged, wry with Mona's deadpan wit."
— Minneapolis Star Tribune

"Revels in both order and transgression... Stands alone beautifully... Mona's unforgettably wry voice remains throughout."
— Vulture

"Tremendously engaging... Funny and poignant... Beagin excels at mixing comedy and pathos in a way that dilutes neither... Beagin secures her position as a new writer to watch.
— Kirkus, starred reviews

"Sharp and superb... Beagin pulls no punches--this novel is viciously smart and morbidly funny."
— Publishers Weekly, starred review

"Inventing situations and conversations that are off-the-charts in both weirdness and relatability, Beagin fashions an enchantingly intriguing main character in unfiltered, warmhearted Mona. This story of a woman embracing life's what-ifs and her own darkness is a great read."
— Booklist, starred review

"Beagin introduces readers to several recurring characters whose quirkiness infuses the book with its humor and drawing power."
— Albuquerque Journal