Always Human: A Graphic Novel (Always Human, #1) (Hardcover)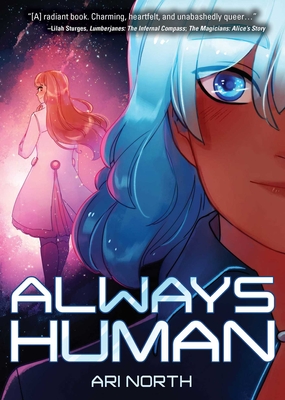 $24.99

Not In Stock - Usually Available in 1-5 Days
Staff Reviews
---
I truly enjoyed this book, the artwork was great, the story was great, everything was just fantastic! I absolutely adore Sunati and Austen, both in their relationship and each of them individually as characters. Always Human is a wonderful light sci-fi romance that is all too relatable to the world we live in now. Awesome!
— Marielle
Description
---
Always Human is a beautifully drawn, sapphic graphic novel about a developing relationship between two young women in a near-future, soft sci-fi setting. First serialized on the popular app and website WebToon, Always Human amassed over 51 million views and nearly 700,000 subscribers. Now, for the first time, this incredible story has been reformatted for a print edition! Along with the sequel Love and Gravity, get ready to fall in love with this ground-breaking story of support and romance.

"This beautifully illustrated slice-of-life tale that shows two young women of color getting to know each other and creating a relationship is so warm and charming that readers will hardly notice how much they are learning about how to better interact with folx who are different from themselves and the importance of not making assumptions." -- Kirkus Reviews

"...soft, expressive art adds a visceral charge to the couple's very human experiences, which range from excitement and affection to pain and doubt." -- Publisher's Weekly

"This wholesome plot focuses on building understanding, offering mutual support, and budding self-acceptance, as well as the importance of asking rather than making assumptions; avoiding othering; and regarding all those in one's orbit with compassion...A charming, sensitive story of love and acceptance." --School Library Journal

" In a technologically advanced near future, two young women bumble through their first dates and fights together as they enjoy the exhilaration of new love....Always Human by Ari North is an endearingly feel-good sapphic romance set against a diverting futuristic backdrop." --Samantha Zaboski, Shelf Awareness

In the near-future, people use technology to give the illusion of all kinds of body modifications-but some people have "Egan's Syndrome," a highly sensitive immune system that rejects these "mods" and are unable to use them. Those who are affected maintain a "natural" appearance, reliant on cosmetics and hair dye at most to help them play with their looks.

Sunati is attracted to Austen the first time she sees her and is drawn to what she assumes is Austen's bravery and confidence to live life unmodded. When Sunati learns the truth, she's still attracted to Austen and asks her on a date. Gradually, their relationship unfolds as they deal with friends, family, and the emotional conflicts that come with every romance. Together, they will learn and grow in a story that reminds us no matter how technology evolves, we will remain . . . always human.

Rendered in beautiful detail and an extraordinary color palette, Always Human is a sweet love story told in a gentle sci-fi setting by a queer woman cartoonist, Ari North.

Published in partnership with media advocacy organization GLAAD, this empowering book positively represents LGBTQ families.
About the Author
---
Ari North is a queer cartoonist who believes an entertaining story should also be full of diversity and inclusion. As a writer, an artist, and a musician, she wrote, drew, and composed the music for Always Human, a complete romance/sci-fi webcomic about two queer girls navigating maturity and finding happiness. She's currently working on a second webcomic, Aerial Magic, which is about the everyday lives of the witches who work at a broomstick repair shop. She lives in Australia with her husband.
Praise For…
---
In a not-so-distant future where changing one's physical features is as easy as purchasing nanobot mods, Sunati falls for Austen, a girl who always looks the same.
Since Austen never changes, Sunati admires what she assumes is her bravery and confidence. As Sunati and Austen chat more, Austen bluntly asks Sunati if she only wants to get to know her more because of her medical condition, which prevents her from using mods. As they gradually grow closer, Sunati learns how to interact more respectfully with those who have overactive immune systems as well as to share her feelings more honestly. Austen, in turn, learns to trust Sunati. This beautifully illustrated slice-of-life tale that shows two young women of color getting to know each other and creating a relationship is so warm and charming that readers will hardly notice how much they are learning about how to better interact with folx who are different from themselves and the importance of not making assumptions. The story also successfully weaves in agender, genderfluid, and asexual characters as well as the subjects of parenting and colorism into the natural arc of Sunati and Austen's developing story. The soft, romantic artwork evokes hazy watercolors. The speech bubbles are predominantly pink and blue, and the varied layout will maintain readers' interest.
A warm, sweet, lovely tale of a world readers will want to live in. (Graphic romance. 12-18)
— Kirkus Reviews

Published in partnership with GLAAD, North's queer futuristic romance imagines an alternate Australia in which people employ modifications to alter their appearance, augment their abilities, and even combat illness. Nearly 22-year-old Sunati integrates mods into her daily life, regularly changing her appearance and using memory mods to study. Austen, 18, on the other hand, has an immune condition that prohibits mod use, even for medical reasons, and she struggles to appreciate her natural appearance. After the young women meet in a train station, mutual interest develops as they introduce each other to their worlds. Sunati transports Austen to a VR environment she designed to resemble an endless sky, and Austen takes Sunati to a "naturalist" commune populated by those who can't or won't use mods. Poor communication leads to emotional conflict, punctuated by Sunati's guilt about using mods and Austen's unconfronted insecurities. Featuring a diverse cast of side characters, the story successfully avoids unfortunate tropes that fictional queer relationships frequently suffer. Though the collected webcomic can sometimes feel disjointed, soft, expressive art adds a visceral charge to the couple's very human experiences, which range from excitement and affection to pain and doubt. Final art not seen by PW. Ages 12-up.
— Publisher's Weekly

Gr 9 Up-This adorable Sapphic romance brings the first "season" of a beloved webcomic to the printed page. In 24th-century Australia, advances in nanobot technology have revolutionized every aspect of corporeal being. Since body modifications, or "mods," are immediate and painless, those who maintain a static appearance tend to stand out. This is why Sunati, a twentysomething virtual reality designer, first notices Austen, an 18-year-old chemistry student who was born with Egan's Syndrome, an autoimmune disorder that prevents her from using mods. Together, the duo learn how to love and support each other-and realize that presenting a composed exterior isn't the same as cultivating genuine self-confidence. North explores the emotional infrastructure of a wildly imaginative future. Though there's very little text, resulting in a few narrative bumps (much is left up to inference), lovely artwork washed in pink and blue watercolors flows across pages, ensuring a seamless shift from pixel to paper. Despite a limited cast, readers will delight in diasporic diversity being an unremarkable norm. Sunati is of mixed South Asian descent, and her best friend Rae is an asexual Black woman; Austen's Latinx family features two fathers and a gender-nonconforming younger sibling. Those seeking breakdowns and blowups should look elsewhere, as this wholesome plot focuses on building understanding, offering mutual support, and budding self-acceptance, as well as the importance of asking rather than making assumptions; avoiding othering; and regarding all those in one's orbit with compassion. VERDICT A charming, sensitive story of love and acceptance.-Steven Thompson, Bound Brook Memorial P.L., NJ
— Steven Thompson

First serialized on Webtoon and now published in partnership with GLAAD, Always Human by Ari North is a sweet sci-fi romance about two young women who learn that imperfections contribute to beautifully uncommon personalities.
Sunati first admires Austen at the train station because the young woman is not using mods to change her appearance. Sunati assumes this is because Austen is "brave" enough to be herself. When Sunati finally gathers the courage to talk to Austen, she learns Austen's overactive immune system rejects mods. Still convinced of Austen's courage, Sunati talks her into dating. As their love blooms across cute dates, both mess up. "Incurably honest" Sunati trips over compliments that offend Austen, while quick-tempered Austen assumes Sunati likes an illusion of her: "I can't live up to the pedestal you've put me on." Together, they realize even the most magnetic relationships require hard work.
North nails new love: the nerves ("My heart is too loud. And my head is too empty") that transition to excitement, the amorous teasing and the gushy fawning ("When I see you, the universe comes into focus"). She illustrates how infuriating medical challenges can be and the ways well-meaning assistance can hurt. Using her bright manga art style, she creates characters who exude emotion, while her ethereal, accessible tech world should charm any reader. Further LGBTQIAP+ representation adds refreshing diversity to the couple's social circles. Above all, North's ebullient characters demonstrate that loving someone means more than accepting their differences--it means forgiving their mistakes. Always Human by Ari North is an endearingly feel-good sapphic romance set against a diverting futuristic backdrop.
Discover: In a technologically advanced near future, two young women bumble through their first dates and fights together as they enjoy the exhilaration of new love.
— Samantha Zaboski