Defending Taylor (Hundred Oaks) (Paperback)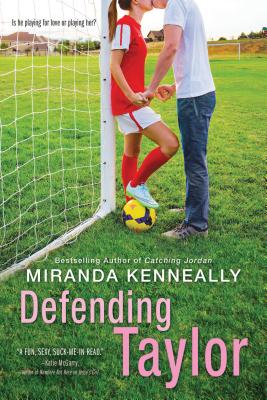 $12.99
Email or call for price.
Other Books in Series
This is book number 7 in the Hundred Oaks series.
Description
---
Taylor's a star on the soccer field, but she's going to need a new game plan to protect her heart
Captain of the soccer team, president of the Debate Club, contender for valedictorian: Taylor's always pushed herself to be perfect. After all, that's what is expected of a senator's daughter. But one impulsive decision—one lie to cover for her boyfriend—and Taylor's kicked out of private school. Everything she's worked so hard for is gone, and now she's starting over at Hundred Oaks High.
Soccer has always been Taylor's escape from the pressures of school and family, but it's hard to fit in and play on a team that used to be her rival. The only person who seems to understand all that she's going through is her older brother's best friend, Ezra. Taylor's had a crush on him for as long as she can remember. But it's hard to trust after having been betrayed. Will Taylor repeat her past mistakes or can she score a fresh start?
Praise for Jesse's Girl:
"A a fun, sexy, suck-me-in read."—Katie McGarry, author of Nowhere But Here and Pushing the Limits
"An absorbing story…highly enjoyable."—Kirkus
"Inspires as it entertains."—Publishers Weekly
About the Author
---
Growing up in Tennessee, MIRANDA KENNEALLY dreamed of becoming an Atlanta Brave, a country singer (cliché!), or a UN interpreter. Instead she writes and works for the State Department in Washington, D.C., where George W. Bush once used her shoulder as an armrest. Miranda loves Twitter, Star Trek and her husband. Visit mirandakenneally.com
Praise For…
---
"On the surface, this work presents itself as a formulaic yet totally enjoyable summer read. However, this title has depth. Kenneally frankly discusses the realities of Adderall, Ritalin, and other drugs, and the sexually charged relationship between Taylor and Ezra feels authentic and unique compared with the cookie-cutter teen romances. " — School Library Journal

"I can't quite put my finger on what is so enthralling about Kenneally's newest novel, but it totally sucked me in. I loved that Kenneally didn't go with an easy, traditional happy-go-lucky ending. I also enjoyed the flawed nature of the characters, which made them feel more relatable. This is a great summer read and my favorite novel by Kenneally so far!" — RT Book Reviews, 4 Stars