On Love and Tyranny: The Life and Politics of Hannah Arendt (Paperback)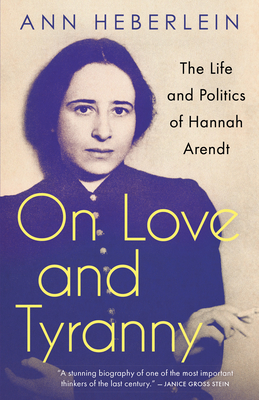 Description
---
In an utterly unique approach to biography, On Love and Tyranny traces the life and work of the iconic German Jewish intellectual Hannah Arendt, whose political philosophy and understandings of evil, totalitarianism, love, and exile prove essential amid the rise of the refugee crisis and authoritarian regimes around the world.
What can we learn from the iconic political thinker Hannah Arendt? Well, the short answer may be: to love the world so much that we think change is possible.
The life of Hannah Arendt spans a crucial chapter in the history of the Western world, a period that witnessed the rise of the Nazi regime and the crises of the Cold War, a time when our ideas about humanity and its value, its guilt and responsibility, were formulated. Arendt's thinking is intimately entwined with her life and the concrete experiences she drew from her encounters with evil, but also from love, exile, statelessness, and longing. This strikingly original work moves from political themes that wholly consume us today, such as the ways in which democracies can so easily become totalitarian states; to the deeply personal, in intimate recollections of Arendt's famous lovers and friends, including Heidegger, Benjamin, de Beauvoir, and Sartre; and to wider moral deconstructions of what it means to be human and what it means to be humane.
On Love and Tyranny brings to life a Hannah Arendt for our days, a timeless intellectual whose investigations into the nature of evil and of love are eerily and urgently relevant half a century later.