Disney Aladdin: A Whole New World: The Road to Broadway and Beyond (Hardcover)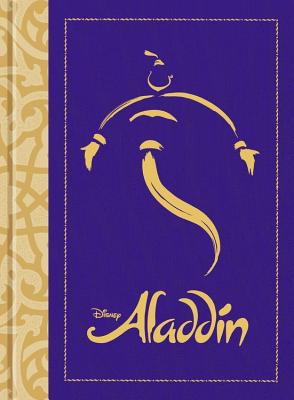 $40.00
Email or call for pricing & availability
Description
---
The Tony-award winning Aladdin is a veritable hit on Broadway and is just beginning national and international performances. In A Whole New World, readers will discover the journey from ancient legend to screen to stage in the words of its creators.
Searching for that perfect gift for the Broadway fan in your life? Explore more from Disney Editions:
How Does the Show Go On? An Introduction to the Theater - The Frozen Edition
The Lion King: Pride Rock on Broadway
The Lion King: Twenty Years on Broadway and Around the World
My Pride: Mastering Life's Daily Performance from Broadway's Record-Breaking Lion King
Peter and the Starcatcher: Acting Edition
About the Author
---
Michael Lassell is a widely published, award-winning author of poetry, fiction, and nonfiction, whose work has appeared in scores of newspapers, magazines, literary journals, and anthologies. A former theater critic, he holds degrees from Colgate University, the California Institute of the Arts, and the Yale School of Drama. He lives in New York City.

Praise For…
---
PRAISE FOR THE LION KING: TWENTY YEARS ON BROADWAY AND AROUND THE WORLD

"Disney's The Lion King: Twenty Years on Broadway and Around the World covers not only the Broadway production, but every production around the world. This 224-page book traces the origins of the show from the blockbuster animated film to stage and includes stories from the creators and actors."—<strong>Huffington Post</strong>

PRAISE FOR THE LION KING: TWENTY YEARS ON BROADWAY AND AROUND THE WORLD

"In words (including quotations from those involved in the show's creation) and breathtaking pictorial spreads, Lassell takes us from the movie's success, via Julie Taymor's extraordinary vision for a theatrical re-presentation of the animated story and the complex challenges of creating sets, costumes, masks and effects to the show's exhilarating global triumph."—<strong>Brian Sibley</strong>, writer, broadcaster, and Disney scholar

PRAISE FOR THE LION KING: TWENTY YEARS ON BROADWAY AND AROUND THE WORLD

"It shows every breathtaking and surreal moment as this story came to life. The dedication is astounding, showing that what has kept the musical alive is the love that people have found for the story. The actors and creators have made this world that encompasses family and love, imagination and magic that can resonate with everybody. It's fascinating to see how different interpretations have discovered new meanings brought on by various cultures. . . . This is the perfect book for every fan!"—<strong>Seattle Book Review</strong>

PRAISE FOR THE LION KING: TWENTY YEARS ON BROADWAY AND AROUND THE WORLD

"The tome, created for the show's milestone anniversary, takes readers from the animated film to the making of the musical, shares stories from the actors and creators of the show, and reveals never-before-published photographs of productions of the show from all around the world. . . . will make the perfect gift this holiday season for Broadway lovers and Disney fans alike."—<strong>Broadway World</strong>

PRAISE FOR THE LITTLE MERMAID: FROM THE DEEP BLUE SEA TO THE GREAT WHITE WAY

"The 176-page book written by Michael Lassell is richly illustrated with drawings by the show's set and costume designers, archival images from the Disney vault, never-before-seen shots of the rehearsal process, and dozens of dazzling full-color photographs of The Little Mermaid that gives readers a front-row seat for the creative process from beginning to end."—<strong>Broadway World</strong>

PRAISE FOR DISNEY ALADDIN: A WHOLE NEW WORLD"Looking like an artifact from the Cave of Wonders—all goldedged pages and padded silk cover—this sumptuous volume, created by Welcome Enterprises (responsible for the previous book on the making of the Poppins musical by Michael Lassell and myself), takes the reader, as the title suggests, on the theatrical journey that led Tom Schumacher and his creative colleagues to bring the popular animated film with its Broadway-style score by Menken, Ashman and Rice to Broadway itself. Lassell introduces us to everyone involved in the process from the set, costume, make-up and lighting designers via the wizardry responsible for a magically-appearing Genii and a flying carpet to the cast who brought Aladdin and his friends and foes to life on stage."—<strong>Brian Sibley</strong>, writer, broadcaster, and Disney scholar