Stories from Trailblazing Women Lawyers: Lives in the Law (Paperback)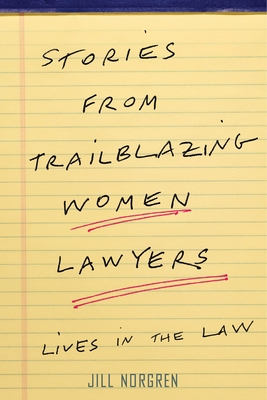 $30.00

Not In Stock - Usually Available in 1-5 Days
Description
---
The captivating story of how a diverse group of women, including Janet Reno and Ruth Bader Ginsburg, broke the glass ceiling and changed the modern legal profession

In Stories from Trailblazing Women Lawyers, award-winning legal historian Jill Norgren curates the oral histories of one hundred extraordinary American women lawyers who changed the profession of law. Many of these stories are being told for the first time. As adults these women were on the front lines fighting for access to law schools and good legal careers. They challenged established rules and broke the law's glass ceiling.Norgren uses these interviews to describe the profound changes that began in the late 1960s, interweaving social and legal history with the women's individual experiences.
In 1950, when many of the subjects of this book were children, the terms of engagement were clear: only a few women would be admitted each year to American law schools and after graduation their professional opportunities would never equal those open to similarly qualified men. Harvard Law School did not even begin to admit women until 1950. At many law schools, well into the 1970s, men told female students that they were taking a place that might be better used by a male student who would have a career, not babies. In 2005 the American Bar Association's Commission on Women in the Profession initiated a national oral history project named the Women Trailblazers in the Law initiative: One hundred outstanding senior women lawyers were asked to give their personal and professional histories in interviews conducted by younger colleagues. The interviews, made available to the author, permit these women to be written into history in their words, words that evoke pain as well as celebration, humor, and somber reflection. These are women attorneys who, in courtrooms, classrooms, government agencies, and NGOs have rattled the world with insistent and successful demands to reshape their profession and their society. They are women who brought nothing short of a revolution to the profession of law.
About the Author
---
Jill Norgren is Professor Emerita of Political Science at John Jay College and the Graduate Center, The City University of New York. She is the author of several books, including Rebels at the Bar: The Fascinating, Forgotten Stories of America's First Women Lawyers (NYU, 2013), and Belva Lockwood: The Women Who Would Be President (NYU, 2007).